Opinion: People Link Killing Rampages To PTSD Due To Colossal Misinformation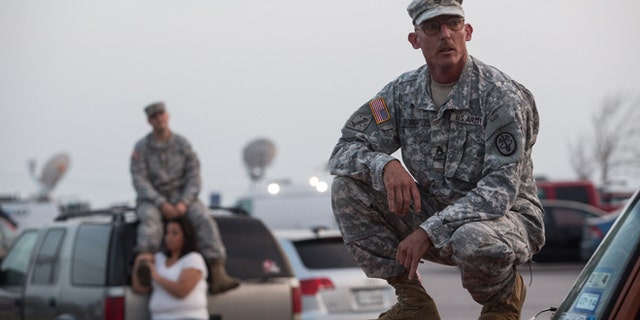 NEWYou can now listen to Fox News articles!
The alarming news of another military service member going on a shooting rampage killing and wounding other service members on a military base is unnerving. For us Latinos it is especially upsetting to know that Iván López, a Latino, perpetrated the recent Ft. Hood shooting. I do not care for highlighting a person's ethnicity or culture in these tragic events, but I feel that I have a responsibility as a Latina, a veteran, and a mental health professional to state the obvious that others are already commenting on.
I do not want to promote or support negative stigma that is already associated with PTSD, especially with combat military service members and veterans. That is the main reason why people do not seek help when they need to.
It has been reported by Army officials that Specialist (Spc.) López suffered from a personality disorder (PD), sleep disturbances, and clinical anxiety prior to enlisting in the military. PD's are conditions in the Diagnostic and Statistical Manual of Mental Disorders (DSM) that affect how individuals perceive situations and relate to circumstances and people. The Army's position is that these conditions were not related to this soldier's military service. It is also reported that he was taking Ambien to treat his insomnia. As a mental health professional these issues do strike a cord. There are several studies that strongly suggest people with PD do have a significant clinical risk for violence. However, in my opinion having a PD does not necessarily mean someone will resort to committing a massacre of this magnitude. I am aware of the many negative and concerning side effects that Ambien causes and that it must be taken under very close supervision for only a short period of time. After serving in the National Guard for nine years Spc. López joined the Army and was reportedly under the care of a psychiatrist. My understanding is that he had not been diagnosed with post-traumatic stress disorder (PTSD) and had no brain injuries. Although he was not in combat he was deployed to Sinai for a year and to Iraq for four months.
I will not offer a forthright opinion on this particular event until I am able to access all of the facts. As far as I know at this time Spc. López has not been clinically diagnosed with PTSD. And even if he is, that does not necessary mean it caused him to perpetrate this rampage. I am concerned that people will continue to erroneously associate these killing rampages with PTSD due to the incredible amount of misinformation or lack of accurate information about PTSD. I do not want to promote or support negative stigma that is already associated with PTSD, especially with combat military service members and veterans. That is the main reason why people do not seek help when they need to. For war veterans and service members PTSD is a Combat Stress Injury (CSI). For accurate information about PTSD please go to youarestrong.org/category/ptsd/
Millions of people who are service members, veterans and civilians suffer from PTSD because it is associated with a traumatic event, not just combat. Overwhelmingly they do not commit mass killings as a direct result. As a society we need to stop associating tragic individual events solely with PTSD. Specifically for our military and veterans who experience the horrific trauma of war, we need to create an environment that allows them to appropriately process this experience and attend to their invisible wounds as well as their physical wounds. We need to eliminate the stigma of getting help and healing. We need to become a supportive entity for them and remove the stigma by equalizing physical health with mental health needs. They need time to heal from the trauma and be with their family, friends and communities and we need to be mindful of triggers. It's time we provide them with the tools and permission they need to heal with dignity and peace.
It is important that we recognize that PTSD and Traumatic Brain Injury (TBI) are misunderstood and that we refrain from opinions until all the facts come out in this recent case. It is also important to keep in mind that military leadership must follow regulations and do not have much flexibility needed to make different decisions. As a result some decisions they make can lead to unknown triggers under special circumstances, especially when people are grieving major personal losses as Spc. López was.
In my opinion regulations need to be reevaluated for these circumstances and military leadership must be educated about mental health in general and combat stigma rather than perpetuate it.