Community Rallies To Save Hero Dog That Took Bullets For Family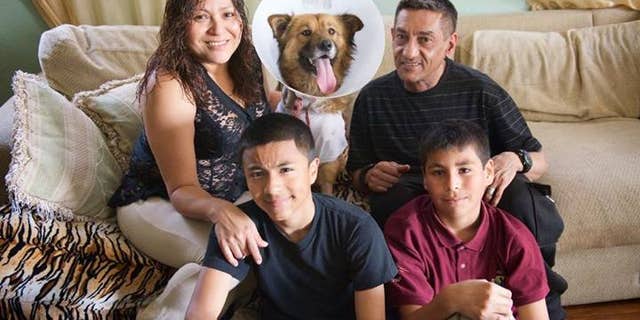 It was Superdog to the rescue.
A family in Los Angeles was home when armed intruders broke in – but their medium-sized pooch may have saved their life.
Charlie was one of three dogs at the Pineo family home in Los Angeles when two men barged into the house. The three dogs chased out the intruders, who fired shots at the pets as they ran off.
Charlie was struck in two of her legs and the other dogs tried to push her back into the house after she was hurt, according to the North Central Shelter's Facebook page.
"Everybody said good-bye to the dog. For us, she was dead," dog owner Armando Casillas told KTLA. "I saw the dog coming through the house bleeding."
Thanks to an online fundraising campaign, Charlie had a lifesaving surgery and is now recovering at home.
Family members said they were glad they could save the dog's life – since she likely saved theirs. If Charlie had not been in the line of fire, the bullets could have hit one of the children, the family said.
Charlie was taken by Animal Control to the North Central Shelter because the family could not afford to get her to an emergency veterinarian on their own.
Initially, when told the cost of the surgery to save Charlie's life, the family almost thought they would not be able to save her. But a technician at the shelter reached out to the North Central Shelter Intervention Program, which helps owners find resources.
Karri Lowe Armstrong, who works at the shelter, went online to seek donations to save Charlie. In less than an hour, about $4,000 (the cost of the surgery) had been raised.
"We didn't know. It was a surprise when they told us," Casillas said. "We are very thankful for the help that we got."
Charlie successfully underwent surgery to have one of her legs amputated. The family said she is happy, strutting around on three legs and giving plenty of kisses.
Follow us on twitter.com/foxnewslatino
Like us at facebook.com/foxnewslatino