China, Pakistan Boost Anti-Terror Cooperation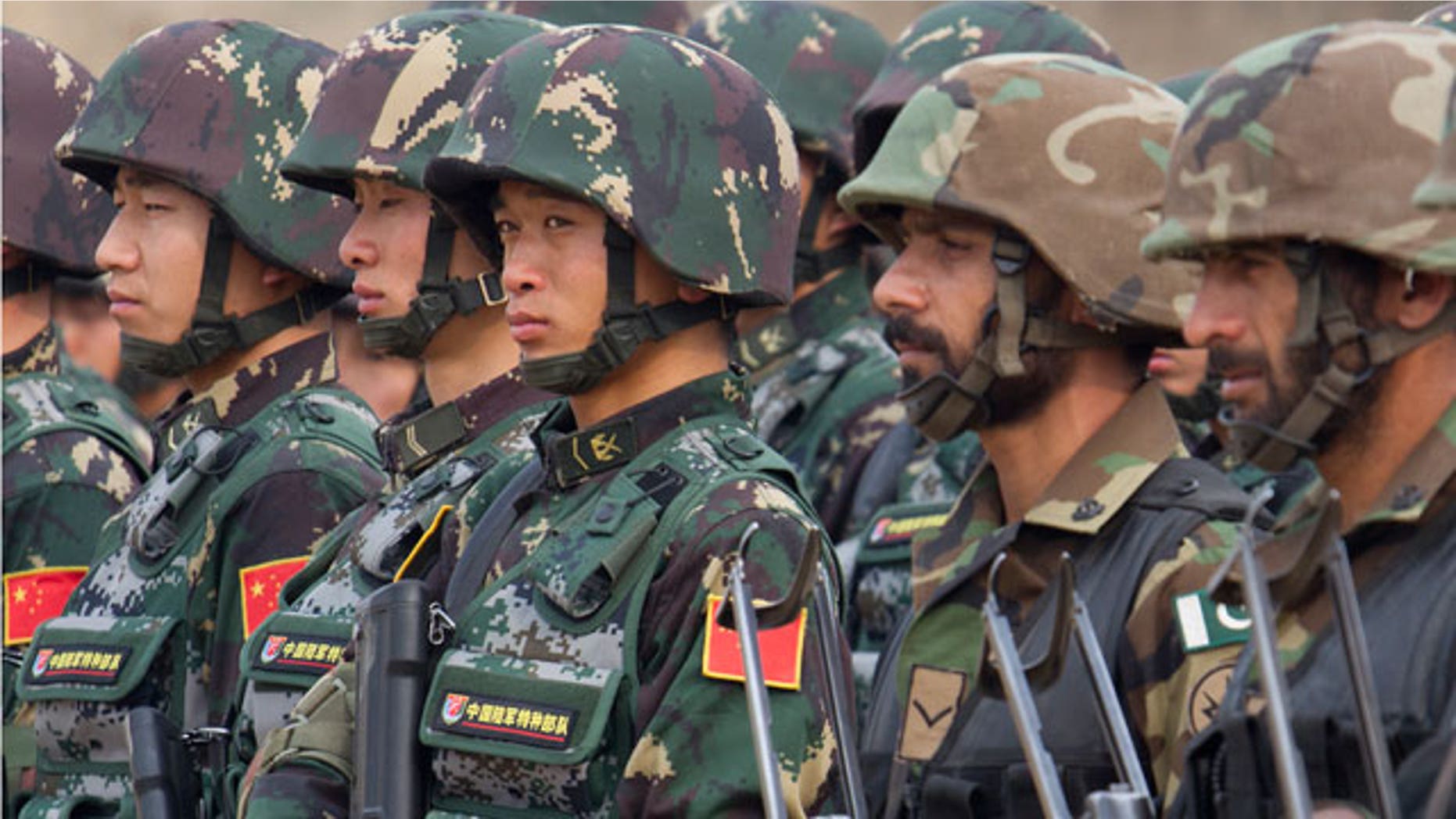 JHELUM, Pakistan -- The Pakistani and Chinese attack choppers swoop low across the valley, strafing a mock terrorist hideout and a bomb-making factory. Then a joint commando team storms the camp -- to the gentle applause of top brass from both nations watching from the stands.
The fact that such a drill is needed reflects a new concern troubling their long-standing alliance: Chinese militants along the Afghan border allegedly aiding separatism in China and plotting terrorist attacks there
Countries around the world, especially the U.S., share Chinese concerns about Pakistan's militant-infested tribal regions, but few get the same kind of public commitment of help as Beijing.
It's a legacy of China's oft-hailed "all-weather friendship" with Pakistan.
Anti-terror cooperation is the latest example of the special relationship between the neighboring countries.
China's good will is vital to Pakistan: China is its largest defense supplier, and it has helped construct two nuclear reactors. Chinese investments help keep the Pakistani economy afloat.
Chinese economic interests are also threatened because militants have made parts of the country no-go areas. Chinese companies are investing in oil, gas and coal extraction to fuel their country's rapidly expanding economy. There are hundreds of Chinese citizens working in Pakistan, and some have occasionally been attacked or kidnapped.
Its main interest in Pakistan is countering rising Indian power in the region, a goal that is shared by Islamabad, which views India as an enemy.
As ties with Washington have deteriorated this year, some Pakistani leaders have suggested China could fill the economic, diplomatic and military void if America scales back its commitment.
Part of the concern centers on the bitter aftermath of the May 2 U.S. raid that killed Al Qaeda founder Usama bin Laden in Pakistan, including reports that Pakistan gave China access to the damaged high-tech stealth helicopter left behind by U.S. commandos when they killed bin Laden. China denied that.
Despite the tensions following the raid, some American counter-terror cooperation with Pakistan has continued. The Pakistani army still allows Washington to fire missiles at militants in its northwest regions. That also cuts into the ability of Chinese militants to train and forge links with other extremists there.
Thursday's dramatic war games in the dusty, hilly Punjab countryside were the kind of Pakistani public display of international anti-terror cooperation that Washington could only dream of, given the environment of mistrust and suspicion with Pakistan.
"Terrorism is something which is a threat to China, in some ways, and to other countries in the world as well," Pakistani Gen. Ashfaq Pervez Kayani told journalists alongside China's deputy chief of general staff, Gen. Hou Shusen. "There is a need to share our experiences with our Chinese friends," the Pakistani army chief said.
Militants from China, mostly Uighur-speaking Muslims from the Xinjiang region, are present in Taliban-controlled parts of northwest Pakistan, where they live and train alongside terrorists from around the world. Visitors to North Waziristan, a militant stronghold, say they are known locally as "Chinese Taliban." A few times a year, they release videos threatening Beijing and demanding freedom for Xinjiang.
Beijing blamed a spate of unrest in July this year in Xinjiang on one group, the East Turkestan Islamic Movement, said to be based in Pakistan. In an unusually blunt charge, China alleged the terrorists were trained in Pakistan. The Pakistani government and army quickly publicly pledged more help.
Many China watchers and Uighur activists call the Chinese accusations a smoke screen to obscure the anger and hopelessness among Uighurs they say are driving the violence. By blaming outside forces, they say China hopes to avoid shortcomings in policies aimed at reducing tensions there.
Kayani acknowledged ETIM's presence in Pakistan. The military rarely refers to Chinese militants when discussing the concerns of Afghanistan and the United States about militants using North Waziristan as a base for attacks across the border.
"We have done our utmost to eliminate this threat of ETIM and other extremists for China," said Kayani. "We have had a very close cooperation and we do exchange intelligence."
Pakistan has handed over Uighur suspects to China, but actual joint anti-terror operations, as opposed to simulated ones targeting terrorists on Pakistani soil are not expected to happen.
China does not have a military presence in Pakistan and is not known to be pursuing one. That contrasts, with the U.S. Army, which had more than 100 trainers embedded with Pakistani troops fighting militants in the northwest. They were ordered out in the aftermath of the bin Laden raid, which enraged the Pakistani army because it was carried out without its knowledge.
Pakistan's military is not known to have directly targeted Chinese militants in the border regions. Indeed, it has long rebuffed American requests for action in North Waziristan, saying it doesn't have enough troops to do so effectively.
Tensions between China and Pakistan, two nuclear-armed countries, rarely make their way into the public domain, and there were none on display during the anti-terror drill.
The mock operation involved around 500 soldiers from both nations. It began with a spectacular parachute drop of Chinese troops from 3,000 feet.
Helicopters dropped other soldiers close to the buildings. They raided the structures and then detonated them, sending balls of orange flames and mushroom clouds of smoke into the early winter air, before flying off.
After the drill was over, the generals enjoyed a Pak-China feast of goat curry, nan bread, sweet and sour soup and Chinese-style chicken. Presents were exchanged. In a final symbol of their alliance, both sets of troops lined up, chanting in unison, "Pakistan and China friendship is everlasting," pumping their fists.