Cesar Chavez's Grandson Comes Out Swinging To Protect Labor Icon's 'True Legacy'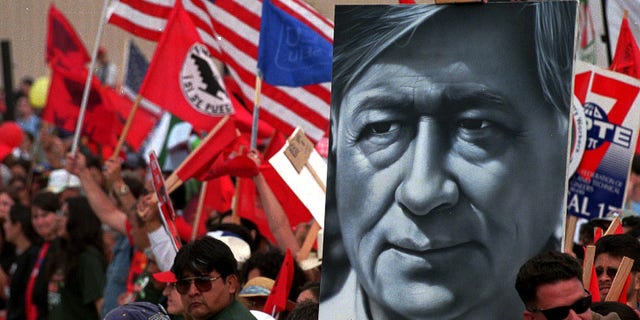 NEWYou can now listen to Fox News articles!
TUCSON, ARIZONA – Alejandro Chavez, the grandson of the revered National Farm Workers Association co-founder, is speaking out about the Arizona politician who changed his name from Scott Fistler to Cesar Chavez in 2013.
Fistler also changed his party affiliation from Republican to Democrat. He is campaigning for a seat in Arizona's 7th congressional district, which is approximately 56 percent Hispanic.
Alejandro Chavez told Fox News Latino that he believes the politician is "only trying to fool voters."
"As a constituent I am offended that he thinks I will be fooled by his name and party change," he said. "As a grandson, it is a slap in the face to everyone that marched, protested, boycotted grapes and supported my grandfather and his life's work."
The politician told the Arizona Republic that voters "want a name that they can feel comfortable with."
Alejandro Chavez filed a challenge this week in court in an attempt to get his grandfather's name off the ballot. He claims many of the nomination signatures the politician gathered are invalid. He also alleges Chavez/Fistler was attempting to confuse voters, a violation that classifies as a class 2 misdemeanor. Elections attorney Jim Barton, of Torres Consulting & Law Group, is representing the labor leader's grandson.
"We have a system that is designed to weed out these types of attempts to trick voters, and I plan to use the system to defend our democracy," Alejandro Chavez said.
As for whether or not he thinks the challenge will affect the political tactic of name changing, he is unsure. He is taking the legal proceedings one day at a time.
"I cannot predict the future but we can fight for what is right and just now and hope others will follow," Chavez said. "That is the true legacy of my grandfather."