Civil Rights and Labor Movement Icon Cesar Chavez Honored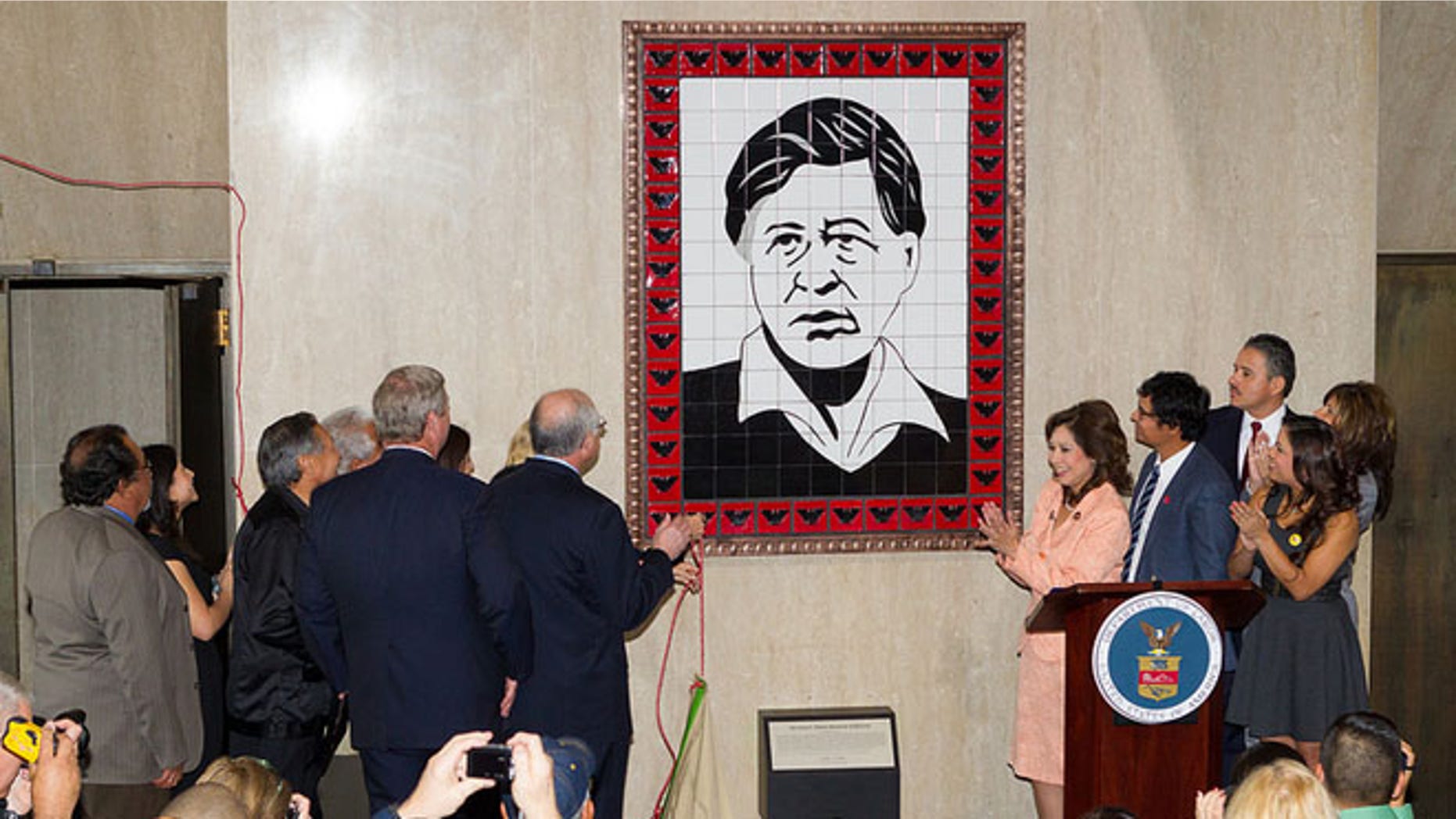 ?Sí Se Puede! -Yes, We Can-- echoed throughout the halls at the U.S. Department of Labor.  The standing-room only crowd, their applause, and chants of a simple mantra born of the farm worker strikes fifty years ago electrified the main auditorium as it was renamed the César E. Chavez Hall of Honor.
The co-founder of the United Farm Workers (UFW) union and civil rights icon admitted that in his lifetime, he would likely not see a national union for these laborers.  And although this is one of the movement's unfulfilled goals, the commemoration is at once an honor for Chávez's work and should serve as an inspiration for the struggles ahead, such as more protections for field workers and comprehensive immigration reform which is stalled in Washington, says Paul Chávez, son of César and leader of the National Farm Workers Service Center.
"If you look at my dad's example, frustration should only lead to activism and the desire to change this.  The solution lies in our hand," Chávez told Fox News Latino.
This honor comes on the 50th anniversary of the UFW and through Chávez recognizes the thousands who fought and continue to battle for decent working conditions such as access to clean water and toilets, prohibiting the spraying of pesticides while workers are in the fields, as well as the use of DDT and other toxic chemicals.  The ceremony also made special mention of the "UFW martyrs"--Nan Freeman, Rufino Contreras, Nagi Daifallah, Juan De La Cruz, and René López--who were killed while picketing or trying to organize a union during the farm worker strikes of the 1970s and 1980s in California's Central Valley and south central Florida.
Chávez's teachings which mixed those of civil rights icons Martin Luther King, Jr. and Mahatma Gandhi have inspired thousands to work to advance social justice and equality for all.  Still, members of the Chávez family acknowledge that this attention would have made the humble activist uncomfortable.  UFW co-founder Dolores Huerta reminded the audience that the best way to honor her colleague's memory is by leading through his example of commitment and peaceful action.  "Leadership can be learned, not taught," she said.
Called a "national treasure" by master of ceremonies and actor Michael Peña who will play César Chávez in an upcoming film devoted to his life and work, Huerta, now heads a foundation bearing her name that advocates for more access to clean water and education, including passage of the DREAM Act which would put on the path to citizenship illegal immigrant college students or service members.
Although César Chávez day on March 31st is not a federal holiday, his memory is being honored with a variety of educational and community service events held throughout the country.
Viviana Hurtado's blog The Wise Latina Club has won "Best Politics Blogger" awards by LATISM and Blogs by Latinas. She is a regular columnist for Fox News Latino. You can follow her on twitter at: @vivianahurtado
Follow us on twitter.com/foxnewslatino
Like us at facebook.com/foxnewslatino