Brazil's Supreme Court postpones meeting on Silva's Cabinet post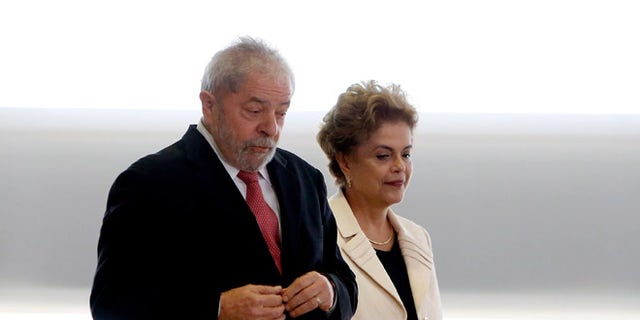 RIO DE JANEIRO (AP) – Brazil's Supreme Court on Wednesday suspended a meeting that was to decide whether former President Luiz Inácio Lula da Silva can be his successor's chief of staff.
The delay came three days after the lower house of Congress voted to begin impeachment proceedings against President Dilma Rousseff. She is accused of using accounting tricks in managing the federal budget.
Rousseff appointed Silva to the chief of staff job March 16 to help her battle the impeachment effort.
But last month, Supreme Court Judge Gilmar Mendes temporarily banned Silva's nomination to the Cabinet post, saying it was an attempt to shield him from possible detention in corruption probes. Under Brazilian law, only the Supreme Court can authorize the investigation, imprisonment and trial of Cabinet members and legislators.
On Wednesday, Justice Supreme Court Justice Teori Zavascki requested that two other motions also banning Silva from assuming a Cabinet position be judged tougher with Mendes' earlier ruling.
Chief Justice Ricardo Lewandowski said a new date will be set to rule on Silva's appointment. The full court will make the final decision.
Also on Wednesday, Judge Maria Thereza de Assis Moura of the Supreme Electoral Court authorized federal police to gather evidence to back investigations of alleged irregularities during Rousseff's re-election campaign in 2014.
The country's main opposition party last year asked the court to investigate whether Rousseff's campaign was financed by illegal money, including donations originating from the huge kickback scandal that has engulfed state-run oil company Petrobras.
If the court finds illegal funds were used in her campaign or other irregularities, it could invalidate Rousseff's election as well as that of Vice President Michel Temer, leading to new elections.
After the Chamber of Deputies voted Sunday in favor of Rousseff's impeachment, the matter was sent to the Senate for a possible trial.
If the Senate votes to hold a trial, Rousseff will be immediately suspended and Temer will temporarily take over. The Senate will then have six months to rule whether to permanently remove Rousseff from office, in which case Temer would serve out her term though its 2018 conclusion.