Banker in Hong Kong murder case reportedly devastated after fiancee cheated on him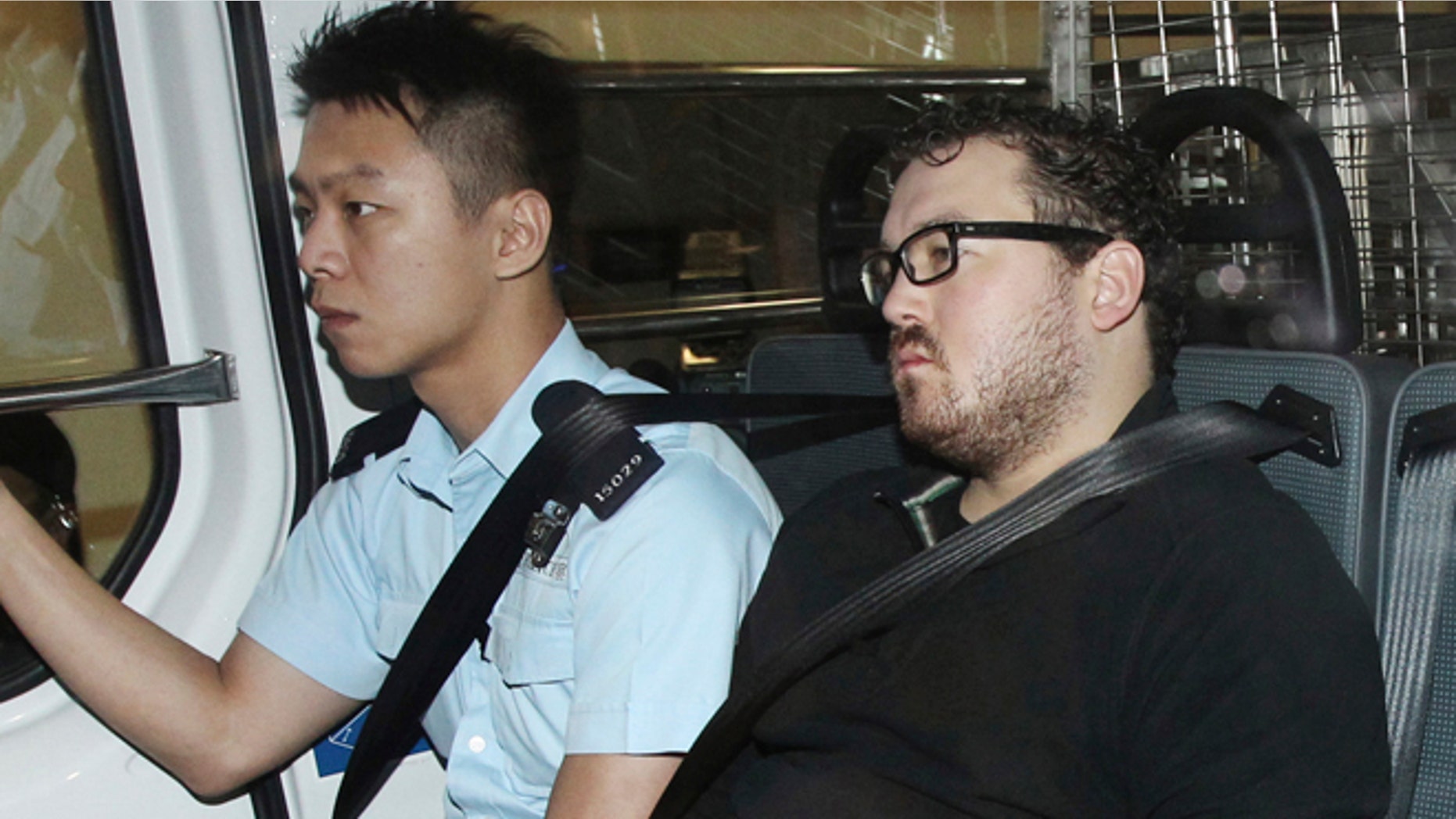 The British banker who has been charged with killing two women he lured to his luxury apartment in Hong Kong – in an incident reminiscent of the 2000 movie "American Psycho" – reportedly was devastated after his former fiancée cheated on him.
Sources told The Telegraph that Rurik George Caton Jutting planned to marry 28-year-old Sarah Butt, whom he met while working at Barclays in London in 2010. But when Butt was transferred to work in New York, she allegedly kissed another man there, which lift Jutting feeling betrayed, sources close to Butt said.
"She wanted to marry him pretty fervently. [They] tried to reconcile and ultimately he proposed. But I think maybe a month or so into it he was not able to come to terms with the fact that she had been unfaithful," one source said. "It was ultimately him who broke it off."
Another source told the newspaper that it was a "fairly dramatic break-up."
Jutting, 29, has since had several girlfriends, but none long-term. He transferred to Hong Kong in July 2013, and quit his job with Bank of America Merrill Lynch days before allegedly killing two women, both of whose bodies were found in his 31st-floor luxury apartment early Saturday in Hong Kong's Wan Chai district.
One woman was found stabbed in the neck and buttock and the other stuffed into a suitcase, with cuts to the neck.
Prior to the killings, Jutting apparently set up an out-of-office email message describing himself has an "insane psychopath," The Telegraph reports.
"I am out of the office. Indefinitely. For urgent inquiries, or indeed any inquiries, please contact someone who is not an insane psychopath. For escalation please contact God, though suspect the devil will have custody (Last line only really worked if I had followed through)."
Jutting's work with a Bank of America team that specialized in tax-minimization trades is also under investigation from prosecutors, regulators, tax collectors and the bank's own compliance department, according to documents reviewed by The Wall Street Journal and people familiar with the matter.
Jutting was part of Bank of America Merrill Lynch's Structured Equity Finance and Trading group, which specializes in "dividend arbitrage" trades that help clients reduce taxes on stock dividends by exploiting differences in international tax rules.
The trades have drawn scrutiny from Federal Reserve examiners amid concerns about potential reputational and financial risks, The Wall Street Journal reports.
Meanwhile, Indonesia Consulate spokesman Sam Aryadi confirmed to The Associated Press Tuesday that one of the victims was 29-year-old Seneng Mujiasih, who had come from the city of Muna on Sulawesi island on a domestic worker permit. She had let the visa lapse, Aryadi said, and ended up "hanging out" in the red light district of Wan Chai.
There she had gone by the Filipino-sounding alias of Jesse Lorena Ruri, another official said. A picture posted on a Facebook page set up in her honor showed her smiling widely, dressed in a glittering silver cocktail dress, perched on a bar stool.
Hong Kong police identified the other victim as 25-year-old Sumarti Ningsih, who was in Hong Kong on a tourist visa that expired Monday.
Speaking to TV reporters Tuesday from the village of Gandrungmangu on Indonesia's Java island, Ningsih's father, Ahmad Kaliman, demanded justice for the crimes.
"The perpetrator has to be sentenced to death, or at least life in prison," the 58-year-old said.
He noted the Jutting's profession and added, "He also has to pay money to help support Ningsih's 5-year-old son in the future."
The families of the women as well as Hong Kong police and Indonesian officials are trying to figure out how the horror unfolded and who to hold accountable.
The two women appeared to be among the thousands of migrant workers looking for better pay in the wealthy financial hub. About half of the 319,325 migrant domestic workers in Hong Kong are Indonesian and nearly all are women, according to Amnesty International.
As recently as Oct. 15, Jutting had posted a picture on Facebook apparently of the glass-and-steel balcony where Ningsih's body was found in a suitcase. All the friends "liking" the photo were young Asian women, mostly with Filipino names.
Other photos on his Facebook page show the pro-democracy protests that have filled Hong Kong's streets since late September. On Sept. 30, Jutting even posted the movement's yellow ribbon as his profile photo.
Jutting graduated from Cambridge University, where he was secretary of the university's history society.
He has yet to enter a plea to the two murder charges against him.
The consulate was arranging for the bodies of both women to be return home for burial.
"Both of the women came from small cities," Aryadi said. "We are working to have them sent back to their families."
The Associated Press contributed to this report.