As Aaron Hernandez's former team heads to Super Bowl, his murder trial begins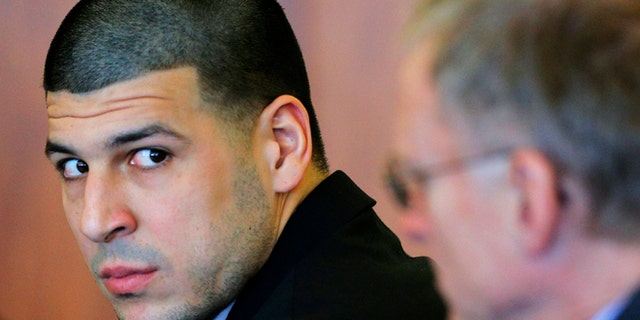 FALL RIVER, Mass. (AP) – Prosecutors in Massachusetts are expected to lay out their case against former New England Patriots star player Aaron Hernandez, as they deliver opening statements in his murder trial days before Hernandez's old team is due to play in the Super Bowl on Sunday.
Hernandez, 25, has pleaded not guilty to killing semiprofessional football player Odin Lloyd in 2013. Lloyd, 27, was dating the sister of Hernandez's fiancée. He was found shot to death near Hernandez's home not far from Gillette Stadium.
Hernandez had a $40 million contract as a tight end with the New England Patriots when he was arrested in June 2013 and charged with murder. Prosecutors say he and two friends, Carlos Ortiz and Ernest Wallace, picked Lloyd up at his home in Boston, drove him to an industrial park in North Attleborough and shot him to death.
They have not said who pulled the trigger, but said Hernandez orchestrated the killing.
Ortiz and Wallace have both pleaded not guilty and will be tried separately.
Hernandez was charged last year with murder for a separate 2012 double slaying in Boston for allegedly killing two men after someone spilled a drink on him at a nightclub. Hernandez has pleaded not guilty.
Bristol County Superior Court Judge Susan Garsh, who is overseeing the Lloyd case, has ruled that prosecutors will not be allowed to tell the jury about the Boston killings.
Garsh must still swear in 18 jurors Thursday before openings begin. She has called a pool of backup jurors to come to the courthouse in case any jurors she seated last week are unable to serve.
Six of the 18 jurors will be randomly selected as alternates immediately before deliberations begin.
Like us on Facebook
Follow us on Twitter & Instagram