Al Qaeda-linked militant warns of attacks in Syria to oust Assad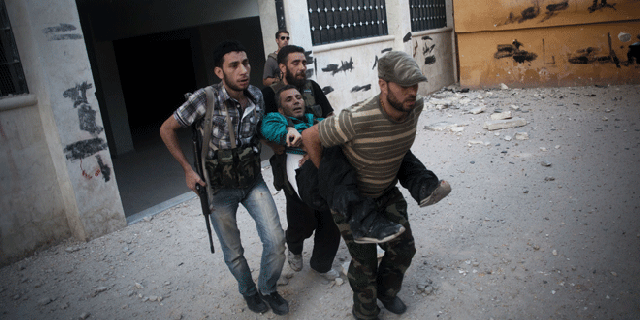 AMMAN, Jordan – A Jordanian militant leader linked to Al Qaeda warned Sunday that his extremist group will launch "deadly attacks" in neighboring Syria to topple President Bashar Assad.
In a speech delivered to a crowd protesting outside the prime minister's office in Amman, Mohammad al-Shalabi, better known as Abu Sayyaf, told Assad that "our fighters are coming to get you."
Abu Sayyaf is the head of the Salafi Jihadi group that produced several Al Qaeda linked militants who fought U.S. forces in Iraq and Afghanistan over the past 10 years. They are also blamed for the 2002 assassination of US aid worker Laurence Foley outside his Amman home.
The militant leader was himself convicted in 2004 of plotting attacks on Jordanian air bases hosting Americans trainers, but served his term and was released last year.
Jordanian security officials say in private that Abu Sayyaf's group comprises several hundred activists. The group regularly faces crackdowns and arrests, but longterm detention without the filing of criminal charges -- a tactic that has been used by other Arab states to keep radical Islamists in prison indefinitely -- is not commonly employed in Jordan.
Syria's rebels enjoy widespread sympathy across Sunni Arab countries. Western officials say there is little doubt that Islamist extremists, including fighters from other Muslim countries, have made inroads in Syria as instability has spread. Al Qaeda-style suicide bombings have become increasingly common.
Many of the foreign jihadists going to Syria are believed to come from Iraq, but in June Jordanian police said they arrested two members of Abu Sayyaf's group near the northern border as they tried to cross into Syria.
In his speech, Abu Sayyaf condemned "crimes" committed by Assad's ruling Alawite minority against the majority Sunni Muslims in Syria and said the situation there "prompts us to jihad."
"Take your dirty hands, which are stained with the blood of innocent people, off Sunni Muslims in Syria, or face our deadly attacks," he said. The crowd of about 200 responded with cries of "Allahu Akbar," or God is great.
The rally demanded the release of 40 jailed group members convicted of crimes, like Foley's assassination, links to Al Qaeda and terror plots in Jordan, Afghanistan and Iraq.
The Syrian uprising, which began in March 2011 with mostly peaceful protests calling for change, has turned into a civil war. Activists put the death toll at 23,000.