Ahmadinejad: No One Would Dare Attack Iran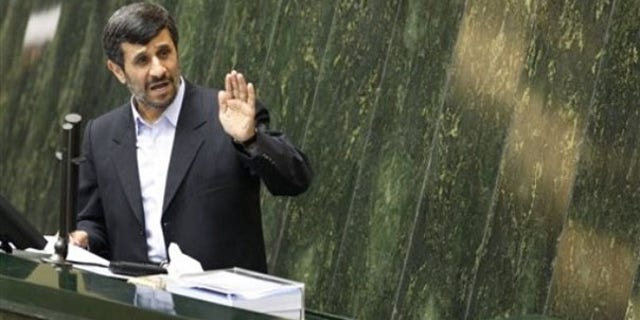 TEHRAN, Iran - President Mahmoud Ahmadinejad on Sunday extolled Iran's military might during an annual army parade, saying the country is so powerful today that no one would dare attack it.
The parade in Tehran showcased Iran's surface-to-surface Ghadr, Sajjil and Shahab-3 missiles, which have a range of up to 1,250 miles that puts Israel and U.S. bases in the region within Iran's reach.
The Shahab-3 missile is capable of carrying a nuclear warhead. Although Tehran doesn't have one, this has been a source for Western concerns along with Iran's controversial uranium enrichment program, which the international community fears masks ambitions for an atomic bomb.
"Today, our armed forces have so much power that no enemy will harbor evil thoughts about laying its hands on Iranian territory," Ahmadinejad said at the parade marking National Army Day. The speech was broadcast live on state TV, which also showed segments of the parade.
Ahmadinejad also urged the U.S. to stop supporting Israel and to dismantle the American military presence in the Middle East and Afghanistan.
Tehran sees American troops on its doorstep in Iraq, Afghanistan and the Persian Gulf as a threat, and Ahmadinejad reiterated his allegations that the U.S. presence is the source of the region's instability.
"They have to leave our region, this is not a request, it is an order from the nations of the region.
It is the will of the regional nations," said Ahmadinejad. "If they are interested in helping the security of the region, they have to dismantle their military presence in the region and stop supporting Israel."
Iran launched an arms development program during its 1980-88 war with Iraq to compensate for a U.S. weapons embargo. Since 1992, Iran has produced its own tanks, armored personnel carriers, missiles and fighter planes.
Tehran has been also looking to upgrade its defenses, especially as Israel has refused to rule out an airstrike over concerns that Iran is developing nuclear weapons. Tehran claims its nuclear program is for peaceful purposes only, such as electricity production.
The advances in Iran's military technology cannot be independently verified.
Iranian news agencies reported that the parade Sunday also displayed an air defense system similar to Russian-made S-300, which is capable of shooting down aircraft, cruise missiles and ballistic missile warheads at ranges of over 90 miles and at altitudes of about 90,000 feet.
Iran ordered Russia's advanced S-300 air defense system in 2007 but none have been delivered, allegedly due to technical glitches, though many believe the delay stems from international opposition to the sale.