A look at major attacks by Nigerian extremist group Boko Haram in recent years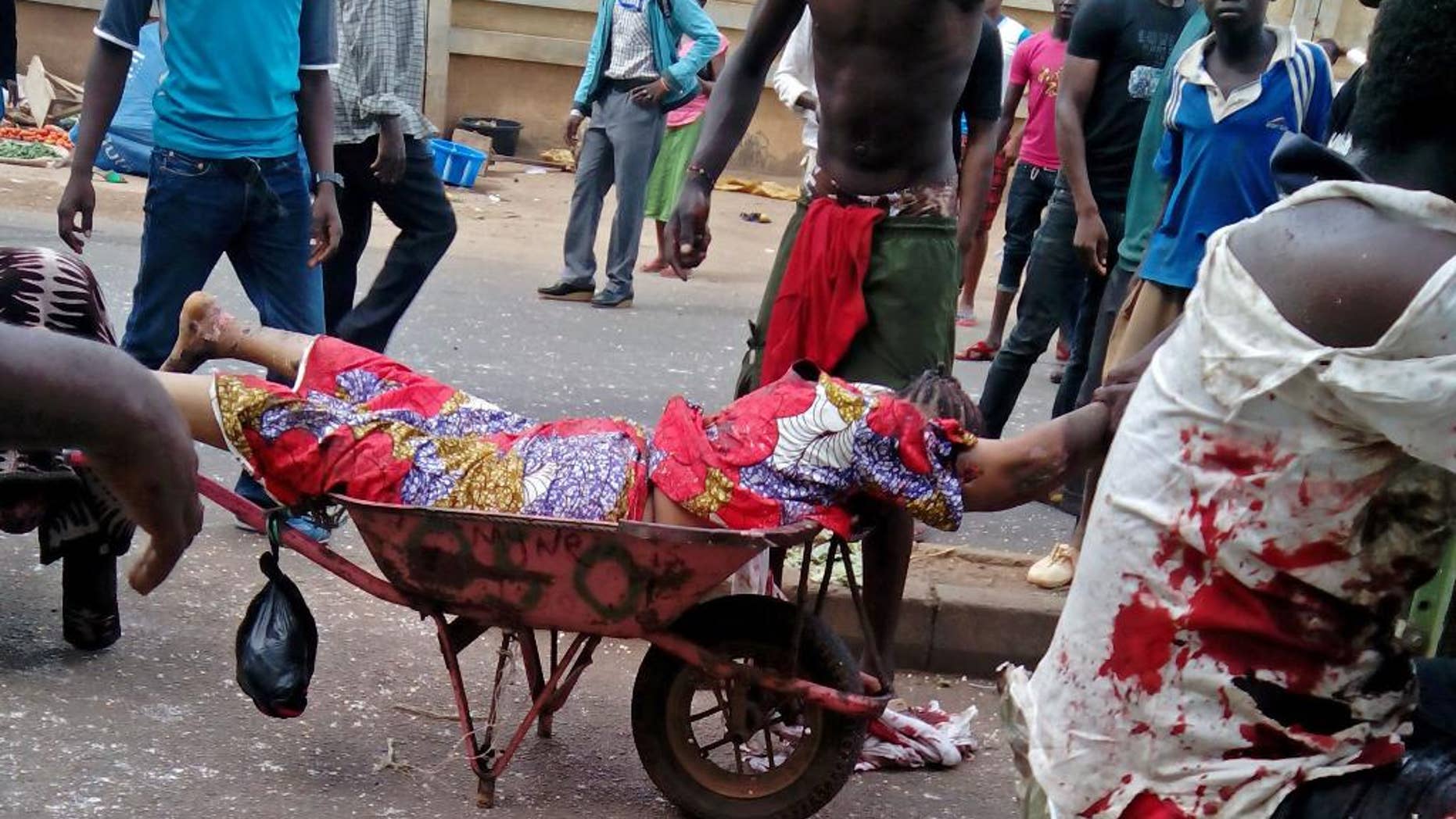 LAGOS, Nigeria – Here is a look at recent major attacks attributed to Nigeria's Islamic extremists, Boko Haram, who have killed more than 2,000 people this year:
__May 20, 2014: Twin car bombs rip through a bustling bus terminal and a market in the central city of Jos, killing at least 118 people and wounding dozens. The second blast came half an hour after the first, killing some rescue workers who had come to the scene. No one has claimed responsibility for the bombings, but Boko Haram has been waging a recent bombing campaign.
__May 1, 2014: A car bomb explodes in Nigeria's capital, Abuja, near a checkpoint across the road from a busy bus station killing at least 19 people and wounding 66 people.
__ April 15, 2014: Boko Haram kidnaps more than 300 girls and young women from a school in Chibok in northern Nigeria. Dozens escape, but the group's leader threatens on video to sell most of the remaining 276 schoolgirls into slavery if the government does not release detained militants.
__April 14, 2014: A massive explosion believed caused by a bomb buried in the ground rips through a bus station during the morning rush hour in Nigeria's capital, killing at least 75 people and wounding 141. This was the first of four attacks over several days by Boko Haram.
__March 14, 2014: Boko Haram launches an assault on the main Giwa Barracks in Maiduguri and claims to have freed 2,000 detainees held there. The battle that ensues kills about 425 people, mainly detainees that included civilians, according to hospital workers who said they were forced to hold a mass burial because the morgue could not hold all the bodies.
__Feb. 25, 2014: Islamic extremists kill at least 59 students at a boarding school in Yobe state, locking some into a dormitory and burning them alive. Survivors say the attackers first went to females' dormitories and told the young women to go home, get married and abandon the Western education they said is anathema to Islam.
__Feb. 19, 2014: Islamic extremists attack agricultural and commercial center Bama town, killing at least 115 people, razing more than 1,500 homes and destroying some 400 vehicles. The attack comes the same day the leader of the terrorist network warns leading Nigerian Muslim political, religious and traditional leaders that his fighters will target them for pursuing democracy and Western-style education.
__Feb. 16, 2014: Chanting "Allah is great," Islamic militants gun down dozens of villagers and slit the throats of others, killing more than 50 people in Izghe village in Borno state in an area of northeast Nigerian area where the military has been bombing extremists out of forest hideouts. Attacks, including this one, over the weekend on eight villages in Borno and Adamawa states leave more than 150 people dead.
__Jan. 26, 2014: Extremists blow up the main market with homemade bombs, shoot at people and then set huts on fire in Kawuri village, killing at least 85 people.
__Jan. 20, 2012: Boko Haram claims responsibility for a series of coordinated bombings and gun battles around the city of Kano that kill at least 185 people.