26 European Countries Close Parts of Airspace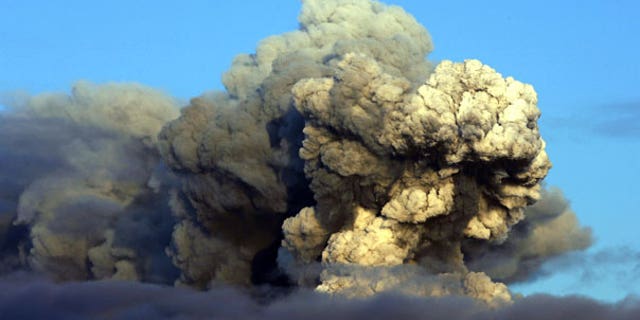 At least 26 countries in Europe closed parts of their airspace, leaving would-be travelers stranded across the globe Saturday as scientists warned that volcanic ash from Iceland could continue drifting across northern Europe for days to come.
"The ash will continue to be directed towards Britain and Scandinavia," Teitur Arason, a meteorologist at the Icelandic Meteorological Office, told AFP.
"That's the general situation for the coming days ... more or less for the next two days, or maybe the next four or five days."
Just 10,400 of Friday's usual 28,000 flights in European airspace took off -- and only 6,000 were approved for Saturday, out of 22,000 -- said EUROCONTROL, the European airspace authority.
"In some ... areas the upper airspace has been made available, depending on the observed and forecasted area of ash contamination. However, it is difficult to access this airspace as in most cases the surrounding area is not available for flights," it said.
Austrian airspace was closed until at least 8pm local (Vienna) time, with Belgium saying it would also not allow takeoffs or flyovers before that time.
Sarajevo said Bosnian airspace would be closed until 12am local time Sunday. Most of British airspace was closed until 1am London time Sunday -- though Scotland and Northern Ireland were expected to allow some flights from Saturday evening -- though an updated warning was expected to be issued at 3pm local time Saturday.
Croatia closed the airspace in the country's north, including the capital Zagreb, but allowed airports in the coastal resorts of Split and Dubrovnik to remain open.
However, Czech Republic airspace was closed until 6pm Prague time Saturday and Danish airspace was set to be closed until 2am Copenhagen time Sunday.
Estonia closed its airspace until 3am Tallinn time Sunday, and Finland closed its airspace until 2am Helsinki time Sunday. There were reports Friday of Finnish fighter jets that flew through the ash cloud sustaining engine damage as a result of the debris interfering with ignition.
France closed Paris' three airports, as well as others in the country's north, until 8am local time Monday.
German airspace was set to remain closed until 2am Berlin time Sunday, and Budapest closed Hungary to air traffic until 8pm Saturday.
British meteorologists warned Saturday that the cloud from Iceland's Eyjafjallajokull volcano was headed for Greece, but that country was yet to announce air traffic restrictions.
Iceland, where the volcano erupted, remained opened, but travel was disrupted due to the lack of usable airspace in neighboring countries.
Ireland -- which briefly allowed flights to resume -- was forced to close its airspace for a second time, until 6pm Dublin time Saturday, after atmospheric conditions deteriorated.
Rome closed Italian airspace until 8pm local time Saturday.
Latvian airspace was closed until 3am local (Riga) time Sunday, and Lithuania said its airspace would be closed until 10pm Vilnius time Saturday.
Montenegro closed its airspace until 4pm local (Podgorica) time Saturday.
Norway reopened parts of its airspace as the cloud began to drift away from Scandinavia.
Polish airspace was closed until further notice, although Krakow John Paul II airport said it would reopen Sunday for up to 40 delegations arriving for the funeral of President Lech Kaczynski.
Romanian airspace was set to be closed from 6pm Bucharest time Saturday, with the ash cloud expected to drift over the country about three hours later.
Russia's airspace, however, remained open but, like Iceland, air travel disruptions were caused by a lack of available airspace beyond its borders.
Belgrade announced the closure of Serbian airspace from 4pm Saturday, until further notice. Slovenia's airspace was also closed until further notice.
Slovakian airspace was closed at 3pm Bratislava time Friday, but expected to reopen at 12am Monday.
Some Swedish airspace was open, but few commercial flights were being allowed to take off. Similarly, Switzerland banned commercial flights in and out of the country until 8pm Zurich time Saturday, though flyovers were allowed by aircrafts at altitudes above 36,000 feet.
Ukraine closed the airport in its capital Kiev until 9pm local time Saturday.
Meanwhile, airports across the globe were thrown into chaos as planes and crews were left stranded in the wrong places and airspace restriction made flights that planned to travel through most parts of Europe to destinations further afield impossible.