Tornado devastates Alabama city; mayor says 'God has a plan'
Residents of a small Alabama city are picking up the pieces Sunday after a tornado caused significant damage to the downtown area and trapped some residents under debris.
The preliminary EF-2 tornado with winds between 120 and 130 mph touched down around 4 p.m. ET and slammed the city of Wetumpka, located about 15 miles northeast of Montgomery in the central part of the state, according to the National Weather Service.
Wetumpka Mayor Jerry Willis told WFSA that one injury was reported and four people had to be rescued after being trapped in a basement by debris.
A senior center, the police department, and the historic First Presbyterian Church were among the buildings damaged from the afternoon storm, he said.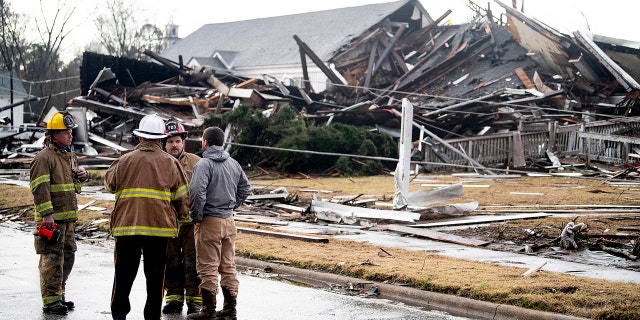 "When you love a place like we do, and we've worked so hard to move this city forward, and to be devastated like this, you know, we just have to recharge our batteries and go back and redo and put it all back together again," Willis told WFSA.
KANSAS SNOW PLOW DRIVER DIES AFTER SALT TRUCK ROLLS ON TOP OF HIM
"God has a plan. We don't always know what God's plan is always, but we'll come together as a community and we'll be better," he added. "I promise you we'll be better because of this and it hurts."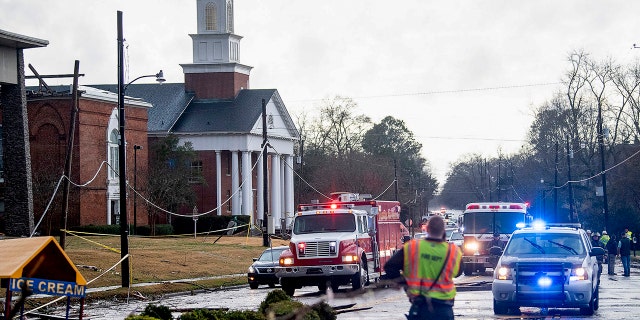 Video from the scene showed several collapsed buildings, overturned cars and toppled trees and power lines.
The NWS in Birmingham said that survey crews were headed to the area on Sunday to assess damage from the storms.
The Alabama Law Enforcement Agency said that troopers are on the ground to assist with the aftermath of the storm.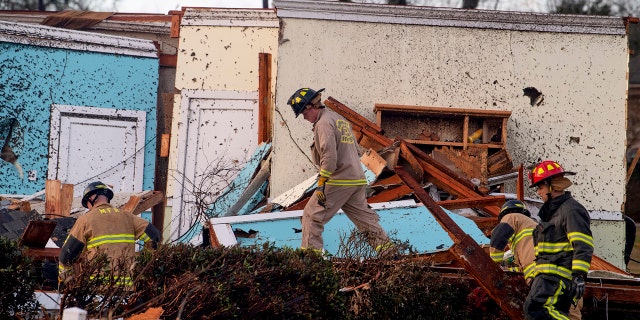 State emergency management officials estimate 35 homes throughout Elmore County, where Wetumpka is located, were damaged by the tornado.
Roberta Johnson, who received damage to her roof, told the Montgomery Advertiser the rain "hit harder than I ever seen before" as the storm rolled through.
"I ran to a bathroom and it hit, boom, the wind was howling," she told the newspaper. "I never prayed so hard in my life."
WINTER STORM CAUSES PLANE TO SKID OFF RUNWAY AT CHICAGO AIRPORT
Authorities were conducting door-to-door searches before nightfall to look for anyone possibly trapped under debris, according to WSFA. Alabama Power said about 2,000 customers were without service Saturday in Wetumpka, and crews were evaluating the damage.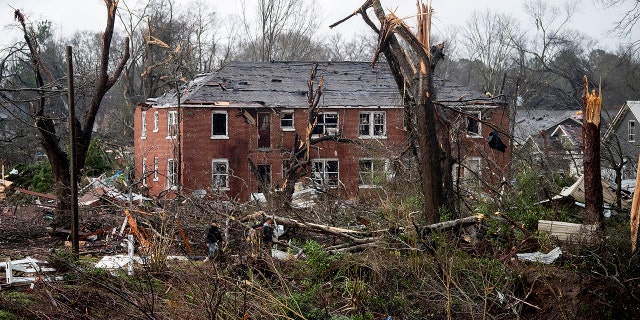 Alabama Gov. Kay Ivey said on Twitter she deployed state personnel to assist authorities in Elmore County.
CLICK HERE FOR THE FOX NEWS APP
Damage also was confirmed in nearby Autauga County.
A mobile home overturned near the Independence community, but no injuries were reported, Sheriff Joe Sedinger said.
The Associated Press contributed to this report.