YouTube shooter asked about a job when she visited the campus a day earlier, police say
NEWYou can now listen to Fox News articles!
A day before the April 3 shooting at YouTube's headquarters in San Bruno, California, police said the female gunman visited the company's campus asking about a job.
The new details from the San Bruno Police Department come nearly two months after the shooting spree left multiple people injured before the shooter ultimately turned the gun on herself.
Gunman Nasim Aghdam visited the video-sharing company's campus for about 10 minutes on April 2, according to police, who said she "asked for directions to the main office and was directed to the front desk where she inquired about employment."
YOUTUBE SHOOTER WENT TO GUN RANGE BEFORE RAMPAGE, FAMILY DID NOT WARN ABOUT VIOLENCE, OFFICIALS SAY
Before returning to YouTube the following day, police confirmed Aghdam spent less than an hour at the Jackson Arms Shooting Range in South San Francisco. Roughly an hour after leaving the range, she arrived at the company's campus and "carrying a purse over her left shoulder," made her way to a courtyard, police said.
Aghdam then pulled a weapon from her purse after being approached by an employee who wanted to see her company ID, which police said she ignored.
"Upon seeing the pistol, the YouTube Employee immediately fled and dialed 911," police said. "Aghdam walked east through the courtyard and began firing indiscriminately into a crowd of employees eating lunch. She emptied her pistol of ammunition, reloaded another magazine, and continued firing at the building and into the crowd."
POLICE RELEASE VIDEO OF RUN-IN WITH NASIM AGHDAM HOURS BEFORE SHE OPENED FIRE AT YOUTUBE
As she made her way to the entrance of the building, police said Aghdam shot herself in the chest.
The weapon used was a Smith and Wesson 9mm Model SD9VE Semi-Automatic Pistol, which police said was registered to and purchased by Aghdam.
"A total of twenty ejected shell casings were located at the scene and one round remained in the firearm," police said.
Authorities searched homes in San Diego and Menifee, as well as the shooter's car, from which police said they found the handwritten addresses for Google's Mountain View campus, as well as the San Bruno YouTube campus.
YOUTUBE SHOOTER ID'D AS WOMAN WITH APPARENT VENDETTA AGAINST COMPANY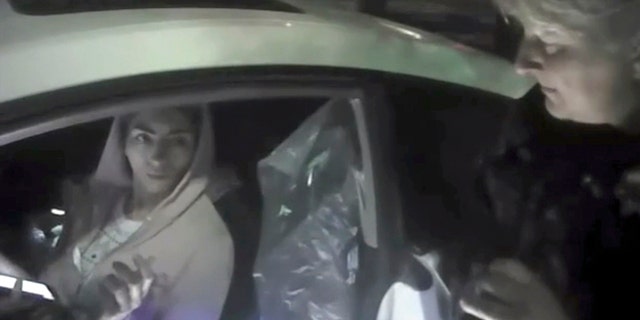 Police said there's no indication at this point that Aghdam coordinated with anyone in carrying out the attack, nor does evidence suggest that "her actions were intended to support any specific cause or ideology.
"Furthermore, the primary motive for this crime is believed to be Aghdam's displeasure with YouTube business practices," police said.
Aghdam's father previously said that his daughter was furious with the company because it had stopped paying her for videos she posted on the platform.
Police said Aghdam was reported missing by family members on April 1. Around 1:40 a.m. on April 3, police said authorities found her asleep in her car, located in a Walmart parking lot. Aghdam told police that "she left home due to a disagreement with family members," after which police said authorities confirmed she didn't need help, took her out of the missing persons system and notified her family that she was found safe.
Fox News' Gregg Re contributed to this report.