Woman accused of stabbing police officer in throat had been evicted: report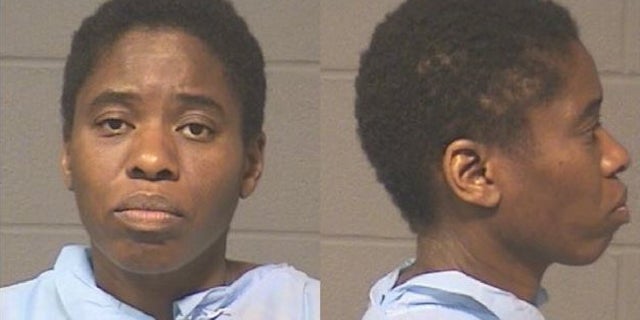 NEWYou can now listen to Fox News articles!
A suspect who allegedly stabbed a police officer in the neck at a Connecticut apartment Thursday was previously evicted and waging a legal fight to remain in the building, court records said.
Chevoughn Augustin, 39, who lived on the ninth floor in a Hartford, Conn., apartment, had been evicted for numerous complaints about "disturbing" behavior, The Hartford Courant reported.
She was charged with attempted murder when an altercation at the apartment building escalated on Thursday, Deputy Police Chief Brian Foley told The Courant.
Foley said Augustin knocked an unidentified officer to the ground, put her in a chokehold and "repeatedly" stabbed her in the neck with a ceramic knife.
"This is obviously a difficult day for law enforcement," Hartford Police Chief Rosado said. "It's a bleak reminder that it's a tough job and that it can go awry pretty quickly."
The 12-year female police officer was rushed to the hospital and remains in critical but stable condition.
Augustin is in custody and has been charged with attempted murder.
She had previously filed a self-represented counter motion that claimed she was discriminated against because she is Native American, the report said.
Augustin said she is "facing fair housing discrimination for being a member of a several protected classes including being a Native American and being single."
Attorneys for the landlord allege that Augustin wandered the hallways "aimlessly very late at night," slept in the common room couch and confronted other residents in a hostile manner, "making them fear for their safety," according to court records.
FEMALE COP IN ICU AFTER GETTING STABBED IN THE THROAT, SUSPECTED CHARGED, POLICE SAY
In her counter-complaint, Augustin wrote that "the allegations cannot be substantiated."
State court records show no criminal record for Augustin.
She was a former youth counselor at the Community Action Against Substance Abuse, a program that trains youth to teach their peers about substance abuse prevention, The Courant reported. In 1997, she also received the first ever Spirit Award by Citizens of Connecticut Children Youth Inc. for her research on teen sexual behaviors and attitudes.
The Associated Press contributed to this report.