Winter storm hammers California, Arizona: Newsom declares state of emergency in 13 counties
California, Arizona were impacted by more winter weather conditions
California Gov. Gavin Newsom declared a state of emergency on Wednesday as a winter storm that has impacted the West continued to dump snow and complicate travel in Arizona and Nevada.
More than 73,000 California customers were reported without power on Thursday morning, according to tracker PowerOutage.US.
The state of emergency was declared in Amador, Kern, Los Angeles, Madera, Mariposa, Mono, Nevada, San Bernardino, San Luis Obispo, Santa Barbara, Sierra, Sonoma and Tulare counties.
Newsom's office also noted that the state's Office of Emergency Services was working with Caltrans and San Bernardino County officials to bring in additional snow plows, road crows and personnel.
CALIFORNIA WINTER STORM LEAVES OVER 100K WITHOUT POWER, COUNTY DECLARES EMERGENCY AFTER PEOPLE TRAPPED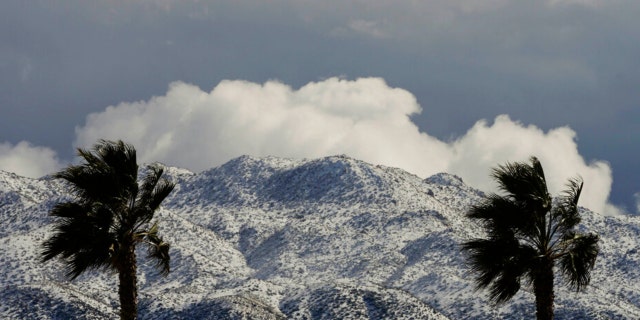 In the county, east of Los Angeles, it could take more than a week to reach some areas, with residents dealing with as much as seven feet of snow. Authorities have conducted 17 rescue operations and emergency crews have worked to shuttle food and medicine to impacted mountain communities.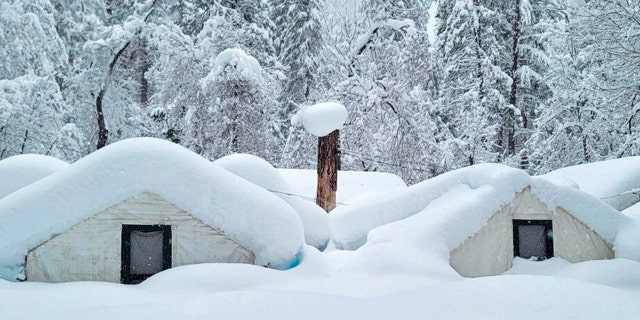 In Crestline, the entire roof of Goodwin and Son Market collapsed on Wednesday under the weight of the snow. The county set up a hotline for residents dealing with frozen pipes, roof issues and food shortages.
Northwest of Lake Tahoe, on the California-Nevada border, an avalanche hit an apartment building on Tuesday night. No injuries were reported.
2 CALIFORNIA EAGLE EGGS WATCHED BY A WEB CAM UNLIKELY TO HATCH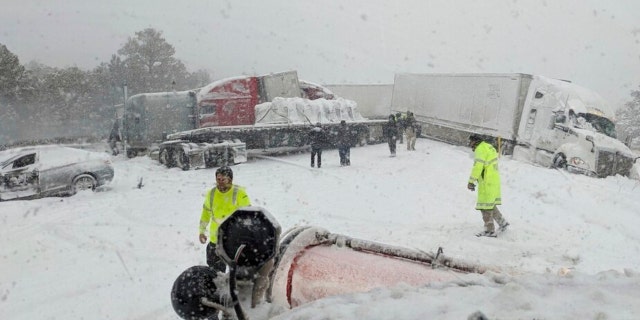 While heavy snow was expected to end in California on Wednesday, temperatures will remain below average for the next several days in the West, according to the National Weather Service.
In Arizona, snow began to fall on Wednesday morning as the storm shifted eastward and was poised to dump as much as two feet by Thursday in the northern part of the state. More than a foot fell in Flagstaff by Wednesday night, with the weather closing interstates and public schools.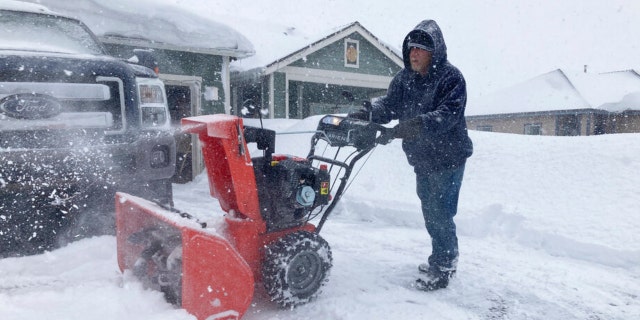 Flights from Phoenix Sky Harbor Airport were delayed for hours, according to Fox 10.
CLICK HERE TO GET THE FOX NEWS APP
The Arizona Department of Transportation said highways and roads were closed, and the Flagstaff office of the National Weather Service said that only scattered showers remained from the winter storm. The Phoenix office noted that showers after snow had mostly pushed eastward – although high temperatures were upwards of 15 to 20 degrees below normal.
The Associated Press contributed to this report.