What is MS-13, the violent gang Trump vowed to target?
NEWYou can now listen to Fox News articles!
One of President Trump's main goals in office is to combat the notoriously violent MS-13 gang.
The gang, responsible for dozens of gruesome deaths throughout the U.S., was designated a "priority" last year by the Department of Justice's Organized Crime Drug Enforcement Task Force. Prosecutors are able to pursue any legal avenue to target MS-13, according to Attorney General Jeff Sessions.
Read on for a look at the gang and the Trump administration's fight against it.
What is MS-13?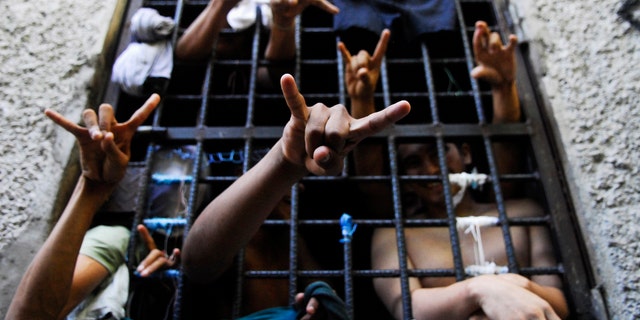 MS-13 was started by Central American immigrants, mainly from El Salvador, in Los Angeles in the 1980s. It has expanded since to include Hondurans, Guatemalans, Mexicans and other Central and South Americans.
MS-13's motto is "mata, viola, controla" – which means "kill, rape, control," according to Robert Hur, an official with the Justice Department.
"They seek to live up to this motto through truly shocking acts of violence designed to instill fear: vicious machete attacks, execution-style gunshots, gang rape and human trafficking."
Gang members perpetuate a number of various criminal acts, according to the FBI, including: murder, rape, home invasions, kidnapping, carjacking and robbery. The FBI said most of the crimes are carried out against members of rival gangs, but "often" innocent people are hurt as well.
Is it a big threat?
MS-13 recruits are middle- and high-school students, predominantly in immigrant communities, who are said to risk violent retribution if they leave.
Authorities estimate the group has tens of thousands of members across several Central American countries and many U.S. states. MS-13's presence is higher in the western and northeastern parts of the U.S., according to the FBI.
OFFICIALS DETAIL BEST WAYS TO COMBAT MS-13
The gang is believed to be behind at least 25 killings on Long Island in the past two years. Many teenagers on Long Island have been held on gang accusations, swept up in various federal investigations.
What has the Trump administration said about MS-13?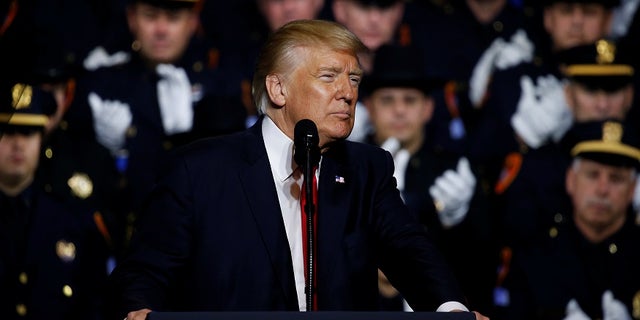 Trump called on Congress to "finally close the deadly loopholes that have allowed MS-13 members" into the U.S. during his first State of the Union address. He also acknowledged parents of MS-13 victims – some of whom were guests of the White House for the speech – and said the country "is praying for you."
Trump has often blamed the Obama administration for the rise of MS-13 across the country. The gang was sanctioned as a transnational criminal organization by the Treasury Department in 2012.
Trump's Justice and Homeland Security Departments have made targeting the gang a top priority. Sessions instructed his department's law enforcement agencies and federal prosecutors across the country to prioritize MS-13 members' prosecution, as directed by an executive order Trump signed in February 2017.
The classification of MS-13 allows some local police departments to tap into federal money to help with investigations. Suffolk County was granted $500,000 by the federal government.
Trump has used the word "animals" to describe members of MS-13, and says he will continue to use the term when speaking about members of the gang.

In July 2017, Trump visited Brentwood, N.Y., a town that has experienced firsthand the tragedy caused by MS-13, and pledged to push Congress for additional federal immigration agents to crack down on gang members who are in the country illegally. He is back on Long Island in May 2018 to hold a roundtable discussion on gang violence.
What are some of MS-13's more notable killings?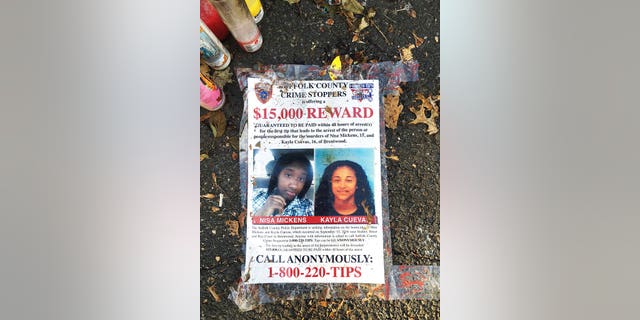 -Two teenage girls from Brentwood, N.Y. were found dead after being brutally beaten and cut in September 2016. Kayla Cuevas, 16, was targeted by gang members and her friend, 15-year-old Nisa Mickens, tried to scare off the attackers, WPIX-TV reported.
-The remains of Oscar Acosta, a 19-year-old high school senior, were found in a wooded area in Brentwood in September 2016. Acosta, who had been missing for months, came to the U.S. from El Salvador and had told his mother he was worried about gangs, she told WNBC-TV.
-The remains of Miguel Garcia-Moran were found in the same area as Acosta's in September 2016. He was 15 years old at the time of his death and had been missing since February. Police said he was the victim of a homicidal beating.
-Damaris Reyes Rivas, 15, was killed in January 2017 and found one month later buried under railroad ties. The teenager, from Gaithersburg, Maryland, was stabbed multiple times by MS-13 gang members who filmed the brutal attack. Venus Romero Iraheta, who was 17 at the time of the attack, pleaded guilty in 2018 to the murder. She told Reyes Rivas "don't forget my name" during the slaying, Iraheta told investigators.
-Police in Nassau County charged Kevin Granados-Coreas, 19, and Carlos Portillo, 22, with second-degree murder in the killing of Julio Cesar Gonzales-Espantzay. Police said MS-13 gang members lured the 19-year-old with the promise of marijuana and sex before they hacked him to death in a park. Gonzales-Espantzay was not a gang member, police said.
-Prosecutors said Christian Villagran Morales was stabbed more than 153 times in a Maryland park. Juan Gutierrez-Vazquez took part in the 2016 killing, holding down the victim while other gang members took turns stabbing him, prosecutors said. Gutierrez-Vazquez pleaded guilty and was sentenced to 40 years in prison. Vanesa Alvarado, who was accused of luring Morales to the park, was also sentenced to 40 years in jail.
-The bodies of four young men, ranging in ages from 16 to 20, were found in April 2017 in a park in Central Islip, N.Y. Police said all had signs of "significant trauma." Justin Llivicura, 16; Michael Lopez Banegas, 20; Jefferson Villalobos, 18; and Jorge Tigre, 18; were reportedly lured to the park by two women associated with MS-13 before they were ambushed by more than a dozen gang members armed with wooden clubs and machetes.
-Angel Soler was 15 years old when he went missing in July 2017. His body was found a few months later in the Roosevelt hamlet of Long Island, police said. Soler was hacked to death with a machete as he was attacked by a group of people, police said. Several MS-13 members have been indicted or charged in connection to his murder.
The Associated Press contributed to this report.