Washington teen who wrote chilling journal entry before vanishing found safe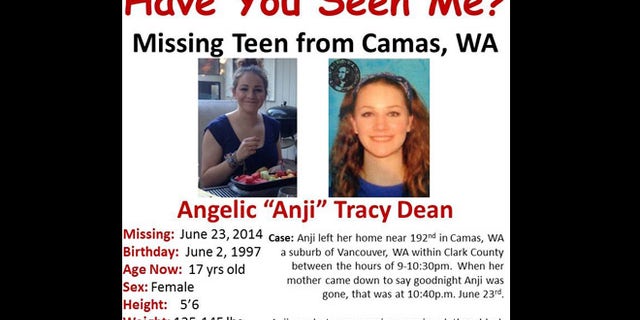 A Washington state teen who wrote a chilling message in her journal before vanishing last month has been found safe, according to local officials.
The Clark County Sheriff's Department said on Twitter Wednesday Anji Dean, 17, has been "located and is fine."
KGW reports the teen's family also posted a message on their Facebook page thanking the media and authorities for helping their daughter come home.
Dean was last seen leaving her home in Camas on June 23 between the hours of 9 p.m. and 10:30 p.m.
Before she vanished, she wrote in her diary: "If you're reading this, I'm either missing or dead."
Her parents told KGW that they feared that their daughter has become a sex trafficking victim. She left behind her wallet, bank cards, glasses and a cell phone that her parents did not know that she had.
A woman, who only wanted to be identified as Jennifer, told KGW Wednesday she had spent several days with the teen and was trying to help her. She said the girl asked to be called "Daisy," and said she didn't want to be forced into doing things she did not want to.
"She said she was in a bad situation and needed to get out," Jennifer said, adding Dean left before she could help her.
Authorities have not given any updates on Dean's condition or how she was found, according to KGW.