Vineyard heir will likely avoid prison in DUI death of cyclist, mother of five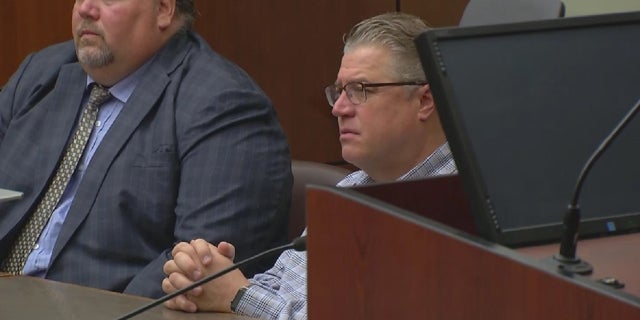 A member of a California vineyard-owning family who has a DUI past will likely avoid prison time for a drunken-driving crash last year that killed a bicyclist who was a mother of five.
John Giumarra III, 49, whose family owns Giumarra Vineyards Corp., was sentenced Tuesday to 90 days in jail and five years probation -- which he'll apply to serve through work release, the Bakersfield Californian reported.
In addition, he will have to complete 100 hours of community service and pay $2,018 in court fines and fees, the report said.
Giumarra is also prohibited from drinking alcohol or visiting bars during his sentence, and must enroll in DUI school as well as install interlock ignition devices on his vehicles.
On Jan. 16, 2017, Giumarra was driving under the influence with a blood alcohol content of 0.18 – more than double the state's legal limit of .08 – when he crashed into 32-year-old Angela Holder as she rode her bicycle across the street directly in his path, the paper reported, citing court documents.
Holder -- a mother of five children, ages 3 to 16 -- died the following day at a nearby hospital. Prosecutors acknowledged during the case that Holder had been under the influence of methamphetamine, was wearing dark clothing and was not in a crosswalk when she was hit.
Giumarra was initially charged with a felony hit-and-run and misdemeanor, before Kern County Superior Court Judge Judith Dulcich reduced the charges to three misdemeanors, KERO-TV reported. In March, Giumarra pleaded no contest to all three charges.
The judge's action infuriated Kern County District Attorney Lisa Green. "I'm very upset that the judge reduced the charge prior to hearing any evidence in the case," Green told KERO last month.
"I'm very upset that the judge reduced the charge prior to hearing any evidence in the case."
If convicted of a felony charge, Giumarra could have faced up to four years in prison – a charge Prosecutor Brad Taconi said he felt was fitting.
"Mr. Giumarra was extremely lucky in this case," Taconi told the Californian.
Based on the evidence, Taconi argued that although Guimarra hadn't caused the crash despite being intoxicated, he still fled the scene. His vehicle wasn't stopped by police until nearly five minutes later, the Californian reported.
Meanwhile, Giumarra's attorneys say their client didn't realize he had just hit somebody given poor lighting conditions and that a vehicle was blocking his view of the bicyclist when she darted in the street. They claim he briefly pulled over in a nearby parking lot, before making his way back to the accident scene.
"In this particular case there's absolutely no evidence that Mr. Giumarra was the cause of this incident," said H.A. Sala, one of Giumarra's attorneys told the paper.
Attorney's representing Holder's family will now seek monetary damages as they have filed a civil suit.
Giumarra has had a history of driving offenses dating to 1987, when he was convicted of reckless driving, the paper reported. And in 2015, he pleaded no contest to a "wet-and-reckless" charge.
In October 2016 a driver from Delano, Calif. man – roughly 31 miles north-northwest of Bakersfield -- struck a pedestrian in a marked crosswalk, resulting in her death, KGET-TV reported.
It was later determined that Dr. Afron Remedios Alphonso was on his cellphone while driving. He was sentenced to a fine and three years of court probation, the station reported.