Video shows vehicle crashing into Florida game store
Surveillance cameras captured the terrifying scene of a vehicle crashing into a Florida store that sells game videos and nearly hitting an employee working behind the counter.
The crash at R.U. Game on Friday in northern Tampa appeared to be an accident and no one was hurt.
The employee, Trakel James, heard the crash and saw the vehicle barreling towards him.
"The moment I heard the sound, I just kind of moved backwards," James told Fox 13 Tampa. "I wasn't scared. It was more that I was shocked and I'm more like, 'Well how did that happen?'"
The video shows a woman exiting the vehicle on the passenger side with a cellphone in her hand.
"All she said was that she was sorry and I was like, 'It's all good, it's all good, as long as someone's not hurt,'" James told the station.
He said he realized how lucky he was after he watched the video -- shot by surveillance cameras in the store.
"After you watch it from a different perspective, I could have been sandwiched and things could have been worse if I was on the other computer that was more on the far right," he told the station. "But lucky enough, I wasn't."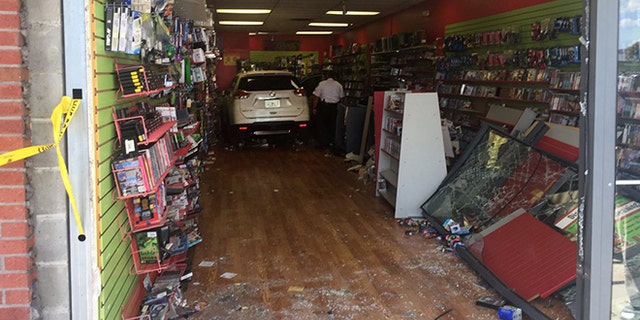 R.U. Game owner Shane Butcher said he was told the driver was going about 35 mph, blew a stop sign and never stepped on the brake.
"Luckily, no one was hurt, but it's kind of detrimental because I'm a small business. I use funds from my business to pay for my daughter's school. I pay for bills," he told the station.