Video shows brawl breaking out on bus after driver reportedly kicks passenger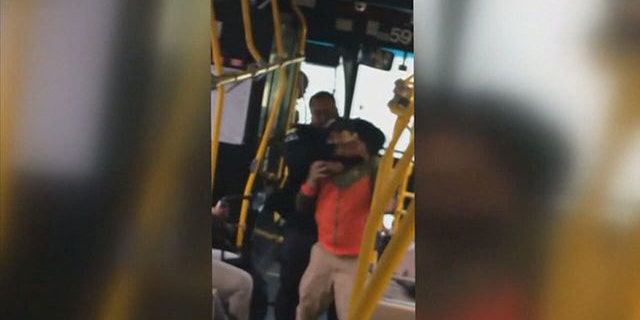 A video shows a Maryland bus driver kicking a man who is using a crutch after a heated argument aboard a Ride On bus.
The incident occurred in March. The video shows the passenger, Brian Betancur, arguing with the driver, who Montgomery County has identified as Leslie St. Lewis.
NAMASTE: FLORIDA JUDGE TEACHES YOGA ON COURTHOUSE LAWN
Betancur shouts profanity at St. Lewis, then turns and starts to walk away. St. Lewis then kicks him in the back. Betancur lunges forward, turns around and throws his crutch at St. Lewis and the fight escalates on the moving bus.
Montgomery County Department of Transportation spokesperson Esther Bowring said the bus was being driven by a new Ride On bus driver that St. Lewis was supervising.
Bowring said St. Lewis is still employed while the incident is under investigation, but that he is not driving for now.
Betancur is banned from riding for 90 days.
"Ride On shouldn't be employing people that are like that, period," Betancur said. I don't even feel safe there."
He said he was angry getting on the bus because he thought the driver was going to skip the stop where he had been waiting for 45 minutes. He said he hustled across the street to the bus with his injured knee, and when he boarded, he asked St. Lewis for his name.
"He said, 'I'm not going to give you my name,'" Betancur said.
REPORT: FLORIDA WOMAN CHARGED 'COVER FEE' AT DRUG FLOP HOUSE
He said they went back and forth, and when he sat down, he heard St. Lewis say something about his mother. That is when he stood back up and confronted him, cursing at him before turning around to go back to his seat.
"At that point, I turn around with my crutches, thinking like, 'Alright, I just kind of got away from the situation,'" he said. "Out of nowhere, I feel this big kick on my back, drop my food."
FOX 5 asked Betancur what he would say to people who argue he is not an innocent victim after the way he cursed at the driver and got in his face.
"They're completely wrong," he said.