Victim 6 sues Penn State, Sandusky, Second Mile charity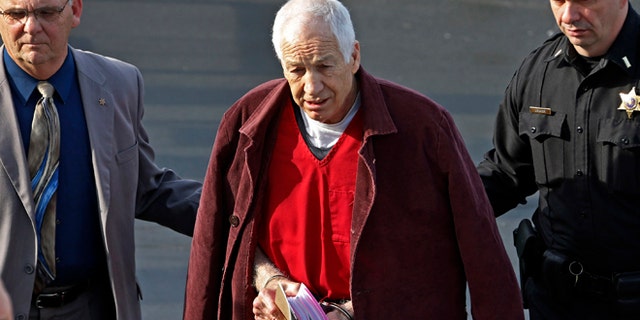 HARRISBURG, Pa. – A young man who testified at a child sex abuse trial last summer that former Penn State assistant football coach Jerry Sandusky tickled and grabbed him in a campus shower in 1998 sued him, his charity and the university on Tuesday.
The man, previously described as Victim 6 in court papers, filed the federal lawsuit in Philadelphia as John Doe 6, claiming that Sandusky's behavior was "ratified" by The Second Mile charity and Penn State and that the organizations acted with reckless indifference to his rights. He is seeking at least $75,000 in damages.
The lawsuit alleges that Penn State intentionally didn't oversee Sandusky properly and failed to report him to authorities when he was suspected of abusing children, allowing him to commit "his criminally outrageous and depraved acts."
It claims Penn State and The Second Mile "turned a blind eye to Sandusky's sexual exploitation" of children and "fostered a culture and/or code of silence" that kept abuse allegations from being reported.
The lawsuit says Sandusky used The Second Mile, which he founded in the 1970s, as a "`hunting ground' for victims of his perverted desire to sexually abuse minor boys." The charity, in an email from official David Woodle, said it would respond to the lawsuit "through the legal process."
Penn State declined to comment on Tuesday. Messages left for Sandusky's civil lawyers in New Jersey were not immediately returned.
Victim 6 testified Sandusky called himself "the Tickle Monster" and grabbed the then-11-year-old boy inside a university shower, saying he was going to squeeze his guts out. He said Sandusky also grabbed him and lifted him to the shower head to rinse soap from his hair.
He testified that when he returned to his home in a State College apartment complex, he told him mother his hair was wet because he had showered. His mother's complaint began a police investigation into Sandusky, but no charges were filed until the attorney general's office arrested Sandusky in November 2011.
The lawsuit is critical of how authorities, including the Penn State Police Department, handled Victim 6's case, calling it an intimidating and otherwise abusive investigation.
Victim 6, now 26 years old, told jurors this summer he lived in Colorado.
Sandusky, a former assistant to longtime Penn State football coach Joe Paterno, was convicted of sexually abusing Victim 6 and nine other boys. He is serving a sentence of 30 to 60 years in prison but maintains his innocence.
For Victim 6, Sandusky was convicted of unlawful contact with minors, corruption of minors and endangering the welfare of children. Victim 6 testified that on the day he was abused, Sandusky gave him a pair of Paterno's socks.
Three former university administrators also face trial on charges of perjury, obstruction and other offenses in the Sandusky case. They deny the allegations.
The abuse scandal at Penn State led to the dismissal of Paterno, who died months later, and elicited landmark NCAA sanctions including a four-year postseason ban and significant scholarship cuts. A vigil to mark the anniversary of Paterno's death, which occurred a year ago Tuesday, was being held in State College.
Several lawsuits have been filed by Sandusky's accusers. Penn State has been negotiating with them in an effort to settle their claims and avoid protracted litigation.