Veterans see red as Jane Fonda tapped to speak to UCLA grads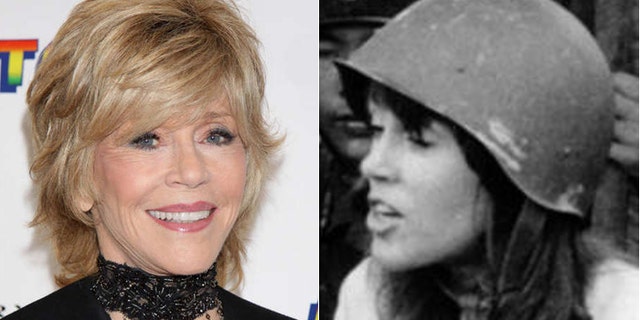 Vietnam veterans in California are furious all over again with Jane Fonda, after the actress was chosen to speak this month at a UCLA graduation ceremony.
Fonda, who in 1972 traveled to Hanoi, Vietnam, to meet with enemy soldiers and called American soldiers "war criminals," has been picked to be the graduation speaker at UCLA's School of Theater, Film and Television's commencement ceremony on June 13.
[pullquote]
"We hate her," Nick Callas, 67, president of the Santa Clarita chapter of Vietnam Veterans of America, told FoxNews.com. "We won't ever see any of her movies or support anything she did. It makes me sick to see her get this kind of recognition.
It was Fonda's journey to Vietnam, as American soldiers were dying in the jungles of Southeast Asia and the nation was becoming increasingly disillusioned with the war, that veterans like Callas will never forget -- or forgive. Fonda famously posed near a North Vietnamese anti-aircraft gun. Although she has apologized since, many veterans believe she helped lift the enemy's spirits while demoralizing those of young Americans.
The actress told Oprah Winfrey in 2013 she made an "unforgivable mistake," saying she was taken to a North Vietnam military site during the last day of her visit, despite her objections.
"I was an emotional wreck by [then]," Fonda told Winfrey last year. "I don't know if I was set up or not. I was an adult. I take responsibility for my actions."
But the propaganda photo that resulted from that trip is forever etched in the memories of Vietnam veterans.
"Those apologies were strictly damage control," said Callas, who did three tours of duty as an Air Force medic from 1966-67. "People lost their lives because of her, and none of us will ever forget that."
John Crooker, first vice president of the California State Council of Vietnam Veterans of America, said he would never forgive Fonda. Crookerserved one tour in the Army from 1968 to 1969, and remembers later reading about Fonda's appearance in Stars and Stripes.
"She was young and stupid, but that's no excuse," said Crooker, 69, of Santa Rosa. "I don't know of any Vietnam veterans who have anything good to say about her."
But UCLA is thrilled to have the Academy Award-winning actress address its film school grads.
"We are truly honored to have Jane Fonda speak at this year's commencement ceremony," said Teri Schwartz, dean of UCLA School of Theater, Film and Television. "Jane is a visionary and a remarkable artist who has spent her life telling deeply powerful stories that have moved and inspired audiences worldwide to action for the greater good and to a greater understanding of our common humanity through her films, philanthropic efforts and personal journeys."
Not surprisingly, those posting on the "Vets Boycotting Hanoi Jane Fonda" Facebook page were more in line with Callas.
"Please tell me this is a joke," administrators of the page posted May 30. "We have to make a stand."
The post had hundreds of "likes" by Monday.