Vermont Inn Denies Discriminating Against Same-Sex Wedding Reception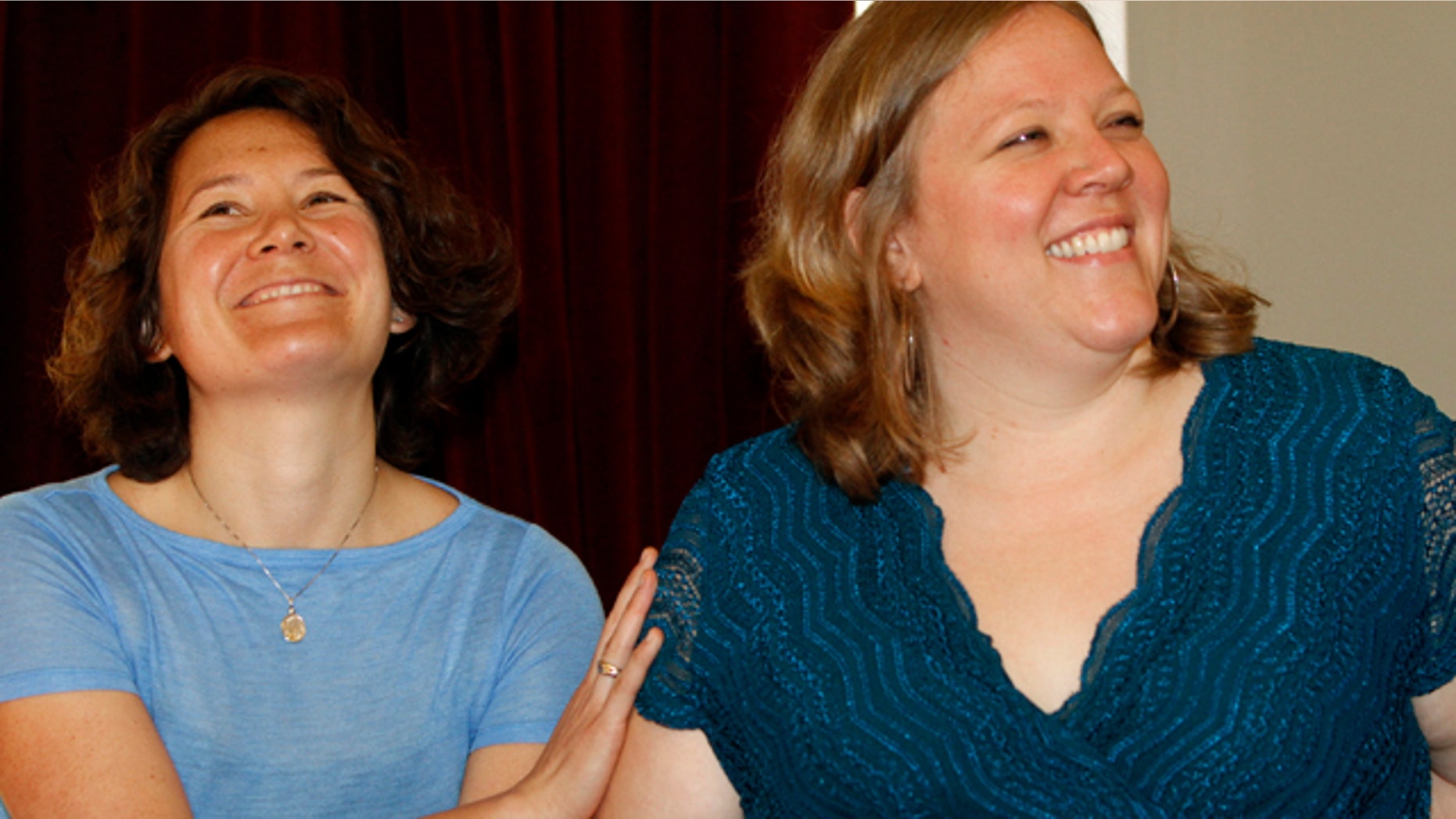 MONTPELIER, Vt. – The owners of an inn that refused to host a same-sex wedding reception say they have no policy to discriminate against gay couples.
In a court filing Tuesday, a lawyer for Wildflower Inn owners Jim and Mary O'Reilly said that they were never told about the lesbian couple's request to hold their wedding reception and that the inn's meeting and events director wasn't authorized to reject requests from same-sex couples.
The lesbian couple, Kate Baker and Ming Linsley, of New York, sued the inn last month, saying it violated anti-discrimination statutes by refusing to host the event because they're gay.
Their lawsuit, filed July 19 in Caledonia Superior Court by the American Civil Liberties Union's Vermont chapter, said the inn initially expressed interest in hosting the $35,000 reception last fall but balked when it became clear there were two brides but no groom.
Baker and Linsley, who live in Brooklyn, said at least two other same-sex couples also were refused because of the "no-gay-reception policy" at the inn in Lyndonville, a scenic village of about 1,500 residents in the state's Northeast Kingdom, a popular recreation destination between the Green Mountains and the Connecticut River.
At the time the lawsuit was filed, the O'Reillys said they are devout Catholics who believe in the sanctity of marriage between a man and a woman.
"We have never refused rooms or dining or employment to gays or lesbians," they said in a statement released in response to media inquiries. "Many of our guests have been same-sex couples. We welcome and treat all people with respect and dignity. We do not, however, feel that we can offer our personal services wholeheartedly to celebrate the marriage between same-sex couples because it goes against everything that we as Catholics believe in."
In their first court filing to answer the suit, the inn's owners insisted that applying Vermont's Fair Housing and Public Accommodations Act would violate their right to free speech and freedom of association by forcing them to hold "expressive events."
Wildflower Inn attorney Norman Smith did not respond to requests for comment on the filing Tuesday.
The ACLU and Baker denounced it.
"The Wildflower Inn owners do not deny that they refused to host Kate and Ming's wedding reception," said Allen Gilbert, executive director of the ACLU chapter. "Instead, they continue to claim a right to discriminate against the couple, which is in violation of Vermont law. We are confident that the owners' claim that they have a First Amendment right to discriminate will be found meritless by the courts."
Baker, in a statement released by the ACLU, said nobody should be turned away from a public venue because of who he or she is.
The couple wanted to have their reception in Vermont because of the state's status as a gay rights pioneer.
Vermont was the first state to create civil unions, in 2000, in response to a lawsuit over inequality in its marriage statute. It's one of six states with legalized gay marriage, along with Connecticut, Iowa, Massachusetts, New Hampshire and New York, plus Washington, D.C.
Last November, Linsley's mother contacted the Vermont Convention Bureau for help booking a venue for the reception to follow the couple's Buddhist wedding ceremony.
The Wildflower Inn -- whose website advertises "Four Seasons for Everyone!" -- was one of about 10 to respond to a request for proposals, saying it would be "the perfect location" for the 120-guest affair.
Once Linsley's mother told the inn's meeting and events director it was a same-sex wedding, the inn sent an email titled: "I have bad news."
"After our conversation, I checked with my Innkeepers and unfortunately due to their personal feelings, they do not host gay receptions at our facility," it said. "I am so sorry and want to stress it does not reflect my personal or professional views."
But the filing by the owners said Wildflower Inn meeting and events director Amalia "Molly" Harris never told them about the Baker-Linsley request in the first place and tried to steer the couple to her own wedding planning business later in the email.
Harris, who no longer works at the inn, declined to comment by telephone Tuesday.
Baker and Linsley said they're planning their wedding and reception this fall at another Vermont resort but wouldn't say which one.