UT Austin stabbing victim asked stranger to call his mother before dying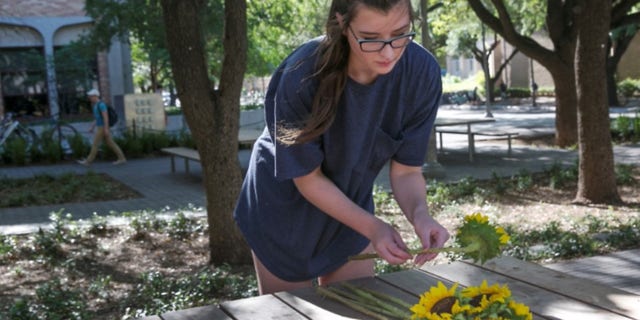 The student who was fatally stabbed on the campus of the University of Texas on Monday asked a stranger to call his mother before he died.
Harrison Brown, 19, had spoken to his mother Lori earlier on Monday. He called around the same time he did most days and interrupted the fourth-grade class she teaches.
But after hanging up, the mother received another call shortly afterward. It was the second call she received from her son's number, Lori said, that signaled something was wrong.
After being stabbed by Kendrex White, Brown had asked a stranger to call his mother from his phone.
"She said, 'Are you Harrison's mom?'" Brown told NBCDFW. "And I could hear it in her voice. Her voice was shaking. The blood just drained through my body and I said, 'Yes.' And she said, 'Harrison has been stabbed.'"
UT AUSTIN STABBING SPREE: 1 KILLED, 3 OTHERS WOUNDED, SUSPECT IN CUSTODY
The days following the incident have been painful for the family, Brown said. But she said her son made her proud and she's convinced that if he were alive he would have already forgiven the stabber.
"Harrison was a happy, compassionate, kind human being," she said. "I know my son Harrison and I know the heart he has and the kindness in his heart and his faith, and I know that Harrison has already forgiven him."
Brown, she said, was a loving son who wanted to pursue music. He had previously auditioned for a spot on "The Voice" TV program.
She noted that the loss had been especially hard for the family as it's come during Harrison's father's final stage battles with Amyotrophic Lateral Sclerosis (ALS).
"I know when my husband does pass away that Harrison's hand will be the one reaching down for his father's hand," the mother said.
UNIVERSITY OF TEXAS STABBING SUSPECT HAD MENTAL HEALTH ISSUES, POLICE SAY
Three other people were injured in the attack.
White, who police said suffers from mental health issues, is currently being held on a $1 million bond.
Brown's memorial service will be held Saturday in the Graham High School gymnasium.