Two men appear to rough up teen aboard San Francisco Muni train: videos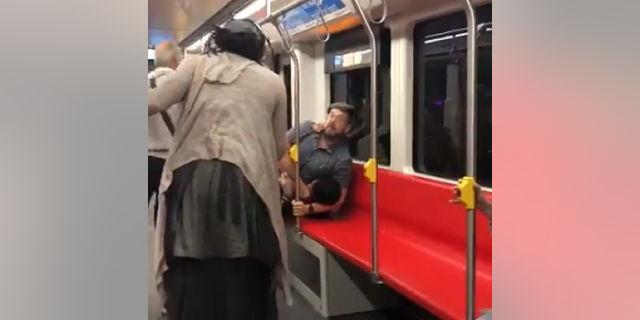 A pair of videos appear to show two men roughing up a teenager aboard a Muni train in San Francisco before pushing him off the train for playing loud music.
"Whoa these two men just tried to throw this kid off the muni train because he was playing music too loudly," wrote Anna Sterling, an independent journalist who first posted the videos. "He easily could've hit oncoming traffic. This is not okay."
It appeared to be another episode in a recent string of violent incidents aboard public transit in the San Francisco Bay Area.
In the first video a man in a cap holds the juvenile in a headlock on a bench. It is not clear how old the juvenile is.
"He's a kid!" one woman is heard shouting in the video.
"That's fine, tell him to stop. Tell him to stop," the man in the cap says.
"I'm fine. I'm fine stopping. I got no problem," the man says before asking the juvenile: "Do you want to stop?"
Another passenger comes over to the man in the cap before the video ends.
In the second video, the man in the cap and a man in black and white try to push the juvenile off the train. Shouting ensues as other passengers tell the men to stop.
"What the f---, bro?" the juvenile shouts.
"Just leave him alone," one passenger off screen can be heard saying before the video ends.
Sterling later clarified that she wasn't the one aboard the train and had been given the footage by someone who was at the scene. Reactions were swift on Twitter.
"I'm very disturbed that no one helped that boy," wrote one Twitter user. "That's my train. The sunset is my neighborhood. I played music loud. Those grown men thinking they are entitled to that boys body because they were inconvenienced by his music. It is racist and awful."
"This is assault. Or even attempted murder. Who are they", wrote another user.
"Disgusting! I wish I would've been on that Muni. Was this M? L? a different line? #Muni #SF", wrote another.
It was not immediately clear when the incident took place. Neither San Francisco police nor Muni officials were immediately available for the San Francisco Chronicle's request for comment.
Violence aboard public transit in the Bay Area has been a source of concern for many residents in the region.
The wave has included the July slaying of an 18-year-old woman and two other killings aboard the region's BART (Bay Area Rapid Transit) system, in addition to slashings and other assaults.