Twinkie madness grips Chicago as Hostess' last shipment hits shelves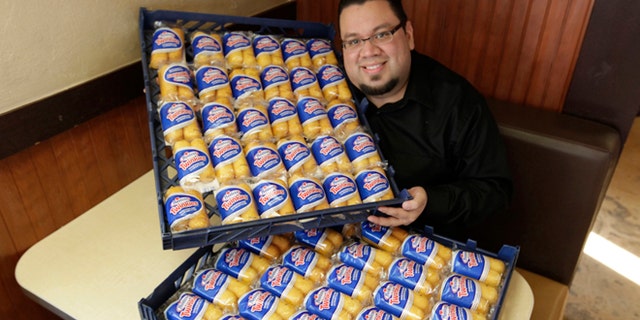 NEWYou can now listen to Fox News articles!
Twinkies are going out with a bang and not a whimper, both online and at a Chicago grocery chain that bought up the last batch.
With iconic baker Hostess closing up shop -- at least until a new buyer saves it from bankruptcy -- the Windy City's Jewel-Osco chain bought up the last shipment of Twinkies, as well as Hostess' lesser known treats, Ding Dongs, Zingers and Orange Cupcakes. More than 20,000 boxes of Twinkies and roughly 5,000 boxes of Ding Dongs, Zingers and Orange Cupcakes — were flying off the shelves late Monday and early Tuesday.
"The best way to compare it is this: You have your Black Friday sales and this is Twinkie Tuesday," said Mike Siemenas, a spokesman for Jewel-Osco parent company Supervalu. "Once we received a call from Hostess asking if we would take the products, we told them we would take 100 percent of what they had. And based on the demand that the Chicago market had for Hostess products, we knew that that was the best place for them."
"The best way to compare it this is: You have your Black Friday sales and this is Twinkie Tuesday."
The confections will be sold at regular price with no limits on how many customers can buy until the shelves are barren, Siemenas said.
"Most of them have already run out of Hostess products," he said. "The phones have been ringing steadily at our stores."
Some stores have received calls from shoppers looking to buy Twinkies or other Hostess products for relatives living as far away as Arizona, Siemenas said.
Click here for a list of locations.
"This will be a good Christmas present for some," he continued. "This has definitely gotten around the country."
As of early Tuesday, the Twinkie craze continued online, with more than 1,800 items on eBay containing the word "Twinkie," including a listing seeking $2 million for rights to the Internet domain "I like a Twinkie" and $120,000 for an unopened box of 10 Twinkies.
"GET THIS ORIGINAL BOX 10 COUNT INDIVIDUALLY WRAP CAKES NOW FACTORY SEALED," the listing reads. "YOU WON'T BE ABLE TO GET IT ANYWHERE ELSE AGAIN -- ALSO GOING TO GOOD CAUSE."
On the other side of the price spectrum, other listings offered homemade Twinkie recipes for as a little as 75 cents and even shelf tags listing Twinkies for sale for $1.49. Twin packs of Twinkies, meanwhile, could be had with bids as little as $2.24.
"I have for bid a Twinkie twin pack that is fresh and sell date is Dec 15th!" the listing reads. "Free shipping!"
Earlier this month, a suburban Chicago restaurant gave away about 10,000 Twinkies along with more than 2,000 chocolate cupcakes as part of a promotion following Hostess' closure announcement last month.
Andres DeLeon of Baby's Cheesesteak and Lemonade in Orland Park and Country Club Hills said workers piled the treats in two minivans during two trips to a Hostess outlet. The restaurant also offered a Twinkie milkshake.
Lindsey Huber, who drove an hour to get her hands on a free Twinkie, pledged to eat the treat last week, while another woman vowed to put them in her children's Christmas stockings.
The Associated Press contributed to this report.
Click for more from MyFoxChicago.com.