Trump orders federal aid to California as raging wildfires continue to grow
NEWYou can now listen to Fox News articles!
President Donald Trump approved an emergency declaration Friday and ordered federal aid to California as residents under siege from a series of wildfires were being urged to wear face masks amid deteriorating weather conditions.
As of Friday morning, the Thomas fire – the largest and most destructive in the state – had grown to 132,000 acres with 10 percent containment. The fire, which started Monday, has destroyed 430 buildings and lessened the air quality in a region north of Los Angeles.
"Hazardous is the worst classification that air quality has," Polly Baldwin, medical director at Santa Barbara County Public Health Department, said Thursday night during a packed town hall meeting in the Carpinteria High School gym.
She urged locals to don face masks outside as the air quality in the city continues to deteriorate. Residents of Carpinteria, an oceanside city near Santa Barbara, fear they could be next in the path of the Thomas fire, the Los Angeles Times reported.
Santa Barbara County fire officials said the fire has not yet reached county lines, but residents should be prepared, according to the newspaper.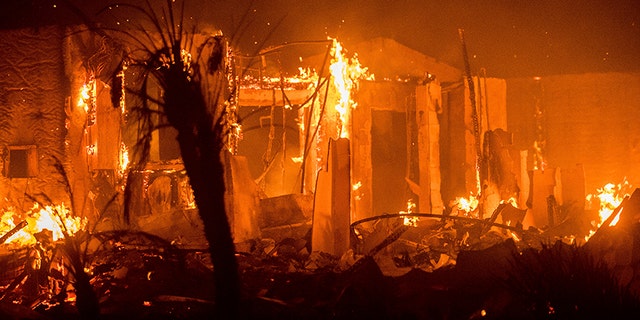 The National Weather Service on Thursday also extended a red-flag warning through the weekend across much of Southern California, which indicates "critical" fire conditions exist in Los Angeles and Ventura Counties.
Fire officials warned that powerful winds can help fan dangerous flames in any blaze that develops and forecasters said wind gusts of between 40 to 60 miles per hour are expected Friday, Fox 11 reported.
Farther south in San Diego County, classes at multiple schools were canceled Friday after a fire broke out there a day earlier amid dry, hot and windy conditions across the region.
As a result of the weather conditions, retirement communities built on golf courses, semi-rural race horse stables and other usually serene sites were engulfed by flames. The California Horse Racing Board said Friday that approximately 25 race horses were killed.
Three people were burned while trying to escape the fast-moving flames, said Capt. Nick Schuler of the California Department of Forestry and Fire Protection. Two firefighters also suffered minor injuries battling the blaze, Cal Fire San Diego added.
Crews made enough progress against large fires around Los Angeles to lift most evacuation orders Thursday, according to The Associated Press.
Meanwhile, the fire north of San Diego, driven by winds above 35 mph, razed rows of trailer homes in a retirement community, leaving charred and mangled metal in its wake.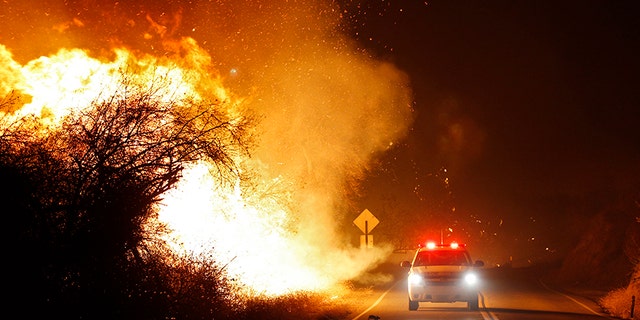 It wasn't immediately known what sparked the fire next to State Highway 76, but strong winds carried it across six lanes to the other side.
Evacuations were ordered in the area near the Camp Pendleton Marine Corps Base and schools and casinos were being used as shelters.
Cynthia Olvera, 20, took shelter at Fallbrook High School.
She had been at her Bonsall home with her younger sister and nephew when her father called from the family nursery to say the fire had reached the gate of their sprawling property.
After starting to drive away, the family turned around to recover forgotten personal documents — but it was too late. Trees were ablaze and flames were within 10 feet of the house.
"I didn't think it would move that fast," she told The Associated Press.
As the flames approached the elite San Luis Rey Downs training facility for thoroughbreds, many of the more than 450 horses were cut loose to prevent them from being trapped in their stables if barns caught fire, said Mac McBride of the Del Mar Thoroughbred Club.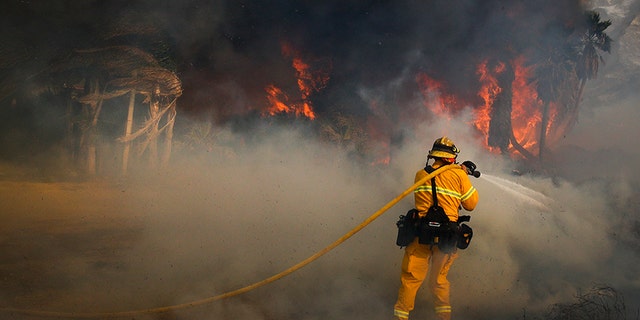 Herds of horses galloped past flaming palm trees in their chaotic escape of a normally idyllic place. Not all survived.
Horse trainer Scott Hansen said he knows that some of his 30 horses at the facility died.
"I don't know how many are living and how many are dead," he said. "I guess I'll have to figure that out in the morning."
All of Friday's races at Los Alamitos Race Course were canceled as the racing community mourned.
Fox News' Travis Fedschun and The Associated Press contributed to this report.