The Latest: Trump says he's troubled by Tulsa shooting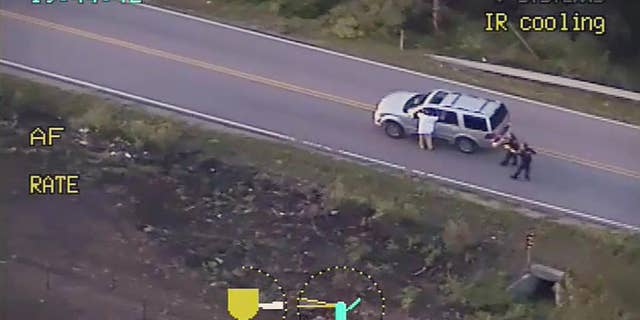 NEWYou can now listen to Fox News articles!
TULSA, Okla. – The Latest on the death of an unarmed black man who was fatally shot by a white police officer in Oklahoma (all times local):
10:40 a.m.
Donald Trump says he doesn't know what a police officer was thinking when she fatally shot an unarmed man in Oklahoma.
Trump said during an appearance Wednesday at a church in a suburb of Cleveland, Ohio, that he is a "tremendous believer in the police and law and enforcement."
But questioned the actions of the police officer who shot Terence Crutcher alongside his vehicle in Tulsa, Oklahoma.
Trump says he's seen video of the incident, and that it looked like Crutcher did everything right.
Trump says he's "very, very troubled" by the actions of the officer.
His Democratic rival, Hillary Clinton, said on Facebook Tuesday that Crutcher's death "is just unbearable, and it needs to be intolerable."
___
7:20 a.m.
The family of Terence Crutcher is "hoping that America will open their eyes" to issues of police violence and racism after the unarmed black man was fatally shot by a white police officer in Tulsa, Oklahoma.
Speaking Wednesday on CNN's "New Day," Tiffany Crutcher urged leaders to put systems in place to avoid something similar from happening again.
Police say Tulsa officer Betty Shelby fatally shot Crutcher while responding to a report of a stalled vehicle last week. Shelby's attorney says Crutcher was not following officers' commands and that Shelby felt threatened, though authorities say Crutcher did not have a gun on him or in his vehicle.
Crutcher's father, the Rev. Joey Crutcher, told CNN that if the situation was reversed and his son was the shooter, "Terence would have been charged immediately."
___
2:40 a.m.
The unarmed black man shot dead in the middle of a Tulsa street last week by a white police officer had run-ins with the law dating back to his teenage years and had recently served a four-year stint in prison.
But those closest to the 40-year-old victim, Terence Crutcher, described him as a church-going father who was beginning to turn his life around.
Crutcher's family could not be reached for comment on his criminal record. But an attorney for his family, Benjamin Crump, said the information should not be used to "demonize" Crutcher.
The Friday shooting was captured by police video, though it's not clear from that footage what led Tulsa officer Betty Shelby to draw her gun or what orders officers gave Crutcher.