The Latest: Small dam failure averted after leaks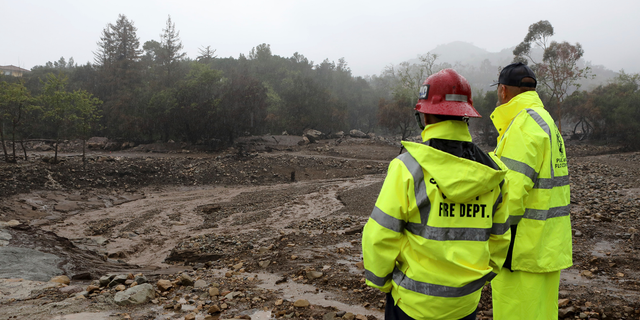 LOS ANGELES – The Latest on California storms (all times local):
6:15 p.m.
A dam leak in the Sierra Nevada foothills of California prompted about three dozen people to evacuate but a full dam failure was averted.
Water began leaking through the front of the Moccasin Dam on Thursday and some damage was seen around the spillways. That's according to Steve Ritchie, assistant general manager of the San Francisco Public Utilities Commission, which owns the dam as part of its infrastructure for supplying water to 2.7 million people in the Bay Area.
Water and debris rushed into the small Moccasin Reservoir, filling the lake to within "a couple feet" of the top of the dam. Ritchie says the water was receding by late Thursday and officials are no longer worried about a dam failure.
Tuolumne County Sheriff Sgt. Deborah Moss says an interstate was closed down over a bridge due to rushing water in a river below.
Erin Mellon, spokeswoman for the state Department of Water Resources, says she knew of no other dams in the state having trouble with flows from the current storm.
__
4:35 p.m.
Evacuation orders are being lifted from a disaster-weary California county as officials announced the area had dodged a bullet from a strong Pacific storm.
Santa Barbara County Sheriff Bill Brown says the region is lucky the storm had moved to the south and north on Thursday. He says the orders to evacuate will be lifted at 5 p.m.
Despite three days of record rainfall in some areas, the county hasn't experience major problems from the storm.
The area includes the community of Montecito, where mudslides killed 21 people and inundated hundreds of homes in January.
The evacuation orders had been in effect since Tuesday for some 30,000 people, many of whom left their homes for hotels, shelters and the houses of family and friends.
___
1:30 p.m.
Despite three days of rain in California, there has so far been no repeat of the disaster that struck the Santa Barbara County community of Montecito during an intense January storm.
County fire Capt. Dave Zaniboni said Thursday there have been no debris flows and no trouble with creeks or debris basins.
Zaniboni says the rain goes through cycles of intensifying and then backing off, but there have been no periods of intense rain in a short amount of time as happened in January.
In that tragedy, a huge amount of rain fell in minutes on a wildfire burn area above Montecito and massive debris flows smashed into the community, killing 21 people and destroying or damaging hundreds of homes.
Thousands of people were ordered out of Montecito and neighboring communities in advance of the current storm, which is expected to fade into showers late Thursday.
___
10:35 a.m.
The powerful storm hitting California has caused widespread street flooding in some California cities in the state's Central Valley agricultural heartland.
The National Weather Service says there are numerous reports of flooding in Fresno and nearby Clovis.
Flood warnings are also in effect east and south of Sacramento as heavy rain has caused the lower San Joaquin River system to rise.
In Southern California, flash flood warnings are issued for parts of Santa Barbara and Ventura counties near wildfire burn areas.
___
6:50 a.m.
A new round of heavy rain is coming ashore on the central California coast, where thousands of people have been evacuated due to risk of debris flows from wildfire burn areas.
After an overnight lull, the storm returned before dawn Thursday in what the National Weather Service says will heavier rains.
So far, there's been no repeat of the massive and deadly debris flows that struck the Santa Barbara County community of Montecito in January but forecasters say the threat remains.
Stormy weather has also spread throughout the state, including the Sierra Nevada, where heavy snow has been making travel difficult.
Localized flooding is possible in the central California interior and in counties north of San Francisco Bay.
___
11:22 p.m.
Although the first wave of a worrisome Pacific storm hasn't caused any major problems in California, forecasters say the worst is still to come, leaving authorities and disaster-weary residents on edge.
Record rain fell in parts of Southern California evacuated by thousands over the threat of debris flows and mudslides from wildfire burn areas.
Although there were no major debris flows as feared, forecasters warned that disaster is still very possible as the rain picks up on Thursday.
National Weather Service meteorologist Joe Sirard says officials hope residents don't think this is a "cry-wolf scenario."
Authorities kept a close watch on Santa Barbara County, hoping there would not be a repeat of the massive January debris flows from a burn scar that ravaged the community of Montecito and killed 21.