The Latest: New Trump ad questions Clinton's health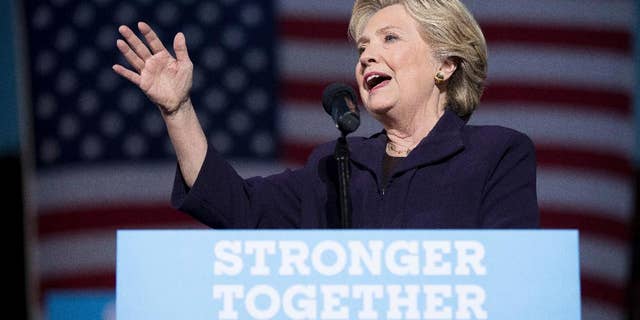 WASHINGTON – The Latest on the U.S. presidential race (all times EDT):
12:05 p.m.
Donald Trump's campaign has released a new ad that questions Hillary Clinton's health and includes footage of her stumbling at the 9/11 memorial.
The ad, titled "Dangerous," was released Tuesday. The campaign says it will run in battleground states.
It begins with an ominous montage of threats facing the United States, including North Korean tanks and Islamic State fighters preparing to behead captives.
It then claims that Clinton "failed every single time as secretary of state" and suggests that she "doesn't have the fortitude, strength or stamina to lead in our world."
It then features footage of Clinton suffering a coughing fit, her appearing to need to be steadied as she climbs some stairs and her stumble while leaving the memorial last month. Her campaign later revealed she had pneumonia.
___
11:50 a.m.
Hillary Clinton will stand on stage with Al Gore and talk about the environment and the dangers of climate change.
But the duo will also be giving a history lesson.
The first campaign outing for the former vice president and almost-president is aimed at reminding voters, especially younger voters, about how close elections can be.
Gore lost Florida and, as a result, the White House by the narrowest of margins in 2000.
Clinton's campaign is trying to guard against overconfidence and apathy that can lead some sympathetic voters to either stay home or vote for a third party.
In a radio interview Tuesday, the Democratic presidential nominee again suggested the race could come down to Florida. Talking to WMBM in Miami, Clinton said: "Florida is the key."
___
11:35 a.m.
House Speaker Paul Ryan is responding to Donald Trump's jibes by urging him to spend more time trying to defeat Democrats than fighting fellow Republicans.
Ryan spokesman Brendan Buck said Tuesday that "Paul Ryan is focusing the next month on defeating Democrats, & all Republicans running for office should probably do the same."
The missive from Ryan's office followed a series of tweets by Trump lashing out at Republican leaders, including Ryan, whom Trump called "our very weak and ineffective leader."
Trump said in another tweet that "it is hard to do well when Paul Ryan and others give zero support!"
Ryan told fellow Republicans on Monday that he's focusing exclusively on retaining the House and won't campaign for Trump. That upset some Trump loyalists.
___
10:30 a.m.
Donald Trump is saying "the shackles have been taken off me" as the Republican nominee embarks on the final four weeks of his presidential campaign.
Trump, reeling after the release of a vulgar 2005 video and subsequent Republican defections, tweeted Tuesday that "it is so nice that the shackles have been taken off me and I can now fight for America the way I want to."
It is not clear immediately what he meant. Trump spent Tuesday morning attacking fellow Republicans, most notably House Speaker Paul Ryan, and not his Democratic opponent Hillary Clinton.
Trump has tweeted several times criticizing Republicans for abandoning him, including suggesting that "the Dems have always proven to be far more loyal to each other than the Republicans!"
___
9:35 a.m.
Donald Trump is again attacking House Speaker Paul Ryan. He's calling him "very weak and ineffective" a day after the House speaker said he would not campaign for the Republican nominee.
Ryan told Republican lawmakers on a conference call Monday that he would focus instead on helping the party keep control of the House.
Trump referred to that call in his tweet Tuesday morning. He said Ryan "had a bad conference call where his members went wild at his disloyalty."
It was his second tweet of the morning targeting Ryan. The other said Ryan's "zero support" was making it hard for Trump to do well.
Ryan did face some pushback from members upset he was abandoning Trump. The House speaker continues to endorse the nominee.
___
9:15 a.m.
The father of a U.S. Army captain killed in Iraq has lashed out at Donald Trump for saying at Sunday's debate that his son would still be alive if the Republican had been president in 2004.
Interviewed Tuesday on CNN, Khizr Khan said Trump spoke out of "blatant political expediency" and showed no understanding of the pain of military families who lost loved ones in Iraq.
After Khan gave an impassioned speech at the Democratic convention in July, Trump attacked the lawyer and his wife, drawing harsh criticism from veterans. Democratic candidate Hillary Clinton has repeatedly cited Trump's comments about the Khan family as evidence that he lacks the temperament to be president.
In Sunday's presidential debate, Trump called Khan's son, Humayun Khan, an "American hero."
___
8:35 a.m.
New Jersey Gov. Chris Christie says he still supports Donald Trump though he describes the Republican presidential candidate's crude comments as "completely indefensible."
A top Trump ally, Christie for the first time publicly addressed Trump's comments Tuesday during an interview on New York sports radio station WFAN.
A 2005 video released Friday revealed Trump using predatory language regarding women. Trump has described his comments as "locker room talk" and said he regrets them.
Christie said he made it clear to Trump on Friday that this kind of talk, even in private, is unacceptable. He said the candidate had to be contrite and apologetic.
Christie says he would have apologized differently, but he believes Trump is sorry and embarrassed.
___
7:55 a.m.
Donald Trump says that House Speaker Paul Ryan is hurting his campaign.
Trump sent out a tweet Tuesday saying that despite "winning the second debate in a landslide (every poll), it is hard to do well when Paul Ryan and others give zero support!"
The tweet comes a day after Ryan effectively abandoned Trump. He told Republican lawmakers on a conference call Monday that he would not campaign for Trump and would focus instead on helping the party keep control of the House.
It wasn't clear what polls Trump was referring to, but after the first debate he cited unscientific online surveys.
___
3:30 a.m.
Donald Trump's candidacy has long exposed divisions within the Republican Party. But GOP leaders appear to be failing at attempts to hold off an all-out split at least until after the election.
House Speaker Paul Ryan effectively abandoned Trump on Monday, telling fellow lawmakers he would neither campaign for nor defend the floundering businessman in the election's closing weeks. Meanwhile, the head of the Republican National Committee, Reince Priebus (ryns PREE'-bus), said he's in full coordination with the embattled presidential nominee.
Forty Republican senators and congressmen have revoked their support for Trump, and nearly 30 of them have called on him to quit the race. Few were enthusiastic supporters to begin with, but the last straw was a video of Trump using predatory language to describe his approach with women.