The Latest: Lava from Hawaii volcano covers 8 square miles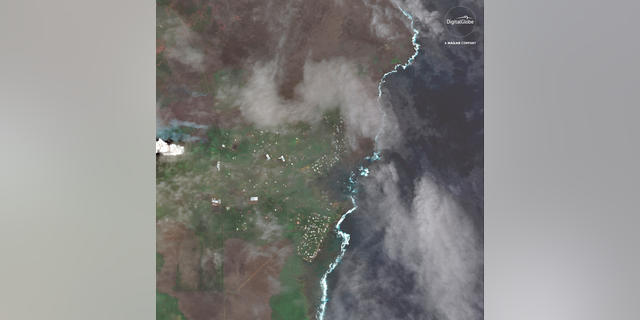 NEWYou can now listen to Fox News articles!
HONOLULU – The Latest on Hawaii's erupting Kilauea volcano (all times local):
12:30 p.m.
Scientists say lava from Hawaii's Kilauea volcano has covered a total for 8 square miles (20 square kilometers).
Lava has been flowing in rural Big Island neighborhoods since fissures began opening in backyards a month ago.
County spokeswoman Janet Snyder said lava had destroyed 117 homes as of Monday.
U.S. Geological Survey scientists say one fissure is still very active and is creating a lava fountain that reached 200 feet (60.96 meters).
Thousands of people in the Puna district have had to evacuate.
On Sunday, a USGS field crew was in the air in a helicopter when they noticed people on the ground needed help.
The crew landed and confirmed the three people had no cellphone reception.
The flight crew went to a safe location and dropped off the USGS team, then went back and airlifted the people to safety.
___
10:50 a.m.
Lava from an erupting Hawaii volcano has destroyed more than 100 homes in a rural Big Island district.
Hawaii County spokeswoman Janet Snyder says that as of Monday, lava burned down 117 homes. Snyder says that's up from Friday's count of 87. She doesn't have an estimate for how many other homes are threatened.
Thousands in the Puna district had to evacuate after lava fissures started opening a month ago.
Helicopter footage from the U.S. Geological Survey on Monday shows lava from one fissure entering the ocean at Kapoho Bay.
There have been various arrests of people forcing their way through blocked areas. Police on Monday said a man sped through a checkpoint near an intersection where lava was approaching. He faces charges that include refusing to evacuate and reckless driving.