The Latest: Decision to reopen keys after Irma was difficult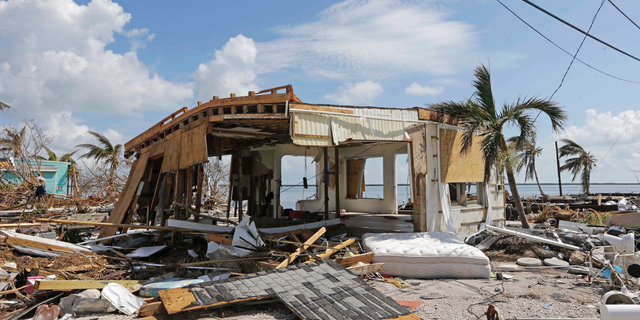 MIAMI – The Latest on Hurricane Irma in Florida (all times local):
4:25 p.m.
Officials in the devastated Florida Keys say they agonized over reopening parts of the island chain after Hurricane Irma, knowing residents were desperate to assess the damage, but worried about harsh living conditions for those who returned.
County Mayor George Neugent said during a news conference Saturday that electricity, sewer and water are intermittent and warned those returning to bring their own supplies.
Officials opened up U.S. 1 on Saturday all the way south to Marathon for residents, business owners, disaster workers and supply trucks. The same groups will have access all the way to Key West on Sunday.
Keys officials are setting up nearly two dozen checkpoints in the hardest hit areas staffed by law-enforcement to make sure only authorized residents and relief workers get through.
Government offices and schools could reopen September 28.
__
2:30 p.m.
Progress is slowly underway in the badly damaged Florida Keys where Hurricane Irma made landfall.
The Salvation Army is flying in supplies to devastated areas in the Florida Keys, including provisions to serve 10,000 hot meals a day.
The organization set up a field kitchen in Marathon on Friday, providing the first hot meals for many since Irma made landfall about a week ago. They're also providing rebuilding funds and vouchers to residents there.
Coast Guard officials also gave the greenlight to re-open the Port of Key West with some restrictions on Friday. The port has been closed since Sept. 8.
___
1:15 p.m.
Authorities are knocking on doors and urging Florida residents who live near the Withlacoochee River to evacuate, warning of potential record-high flooding in the coming days in the wake of Hurricane Irma.
Hernando County Sheriff's officials said in a news release Saturday that their officers, along with firefighters and wildlife officials encouraged residents in Talisman Estates, Riverdale and other flood prone areas to leave. Hundreds of residents are being urged to leave but authorities said that number could increase as the waters rise in the coming days.
Authorities said flood levels at Trilby are expected to reach 17 feet (5 meters) by Monday morning and could exceed that later in the week. Flood levels at Croom are expected to rise to about 11 feet (3 meters) by Monday morning.
___
10:45 a.m.
Officials in the Florida Keys are stepping up plans to let residents and business owners re-enter the area to check on their property.
Monroe County spokeswoman Cammy Clark said in an email that residents, business owners, disaster workers and supply workers can go all the way to Marathon, at Mile Marker 47 just north of the 7 Mile Bridge, on Saturday.
At 7 a.m. Sunday, the county plans to open up U.S. 1 to those same groups all the way to Key West.
A checkpoint in Florida City, on the mainland south of Miami, will remain in place to ensure only these groups are admitted into the Keys.
Clark said an additional checkpoint at Mile Marker 47 will control admittance into the Lower Keys.
She advises anyone re-entering the county to understand that medical services, food, water and electricity are extremely limited. Anyone returning should bring provisions for several days.
___
10 a.m.
Students in two of the nation's largest school districts still don't know when they'll return to class, forcing many Florida parents to juggle childcare as they head into a second week of recovering from Hurricane Irma.
Miami-Dade and Broward counties had hoped to resume operations Monday. But dozens of schools in the two districts — which serve almost 700,000 students — are still without power. An announcement is expected this weekend.
The uncertainty is putting additional stress on parents trying to return to work.
Forty-five-year-old Lori Eickleberry took her 10-year-old daughter to her office. She said it's challenging, "but we kept busy with activities, some coloring."
In some southwest Florida districts, classes have been postponed until Sept. 25. In Monroe County, which includes the Florida Keys, students remain in limbo.