Texas police officer under fire after message to illegal immigrants goes viral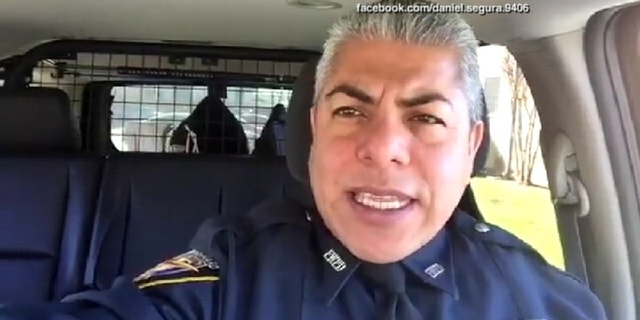 NEWYou can now listen to Fox News articles!
A Texas police officer is under fire after posting an unauthorized video telling undocumented immigrants in his city that his department has not enforced immigration laws "for many, many years."
Fort Worth Officer Daniel Segura posted a nearly 6-minute video on his Facebook page Wednesday morning, hoping to calm fears in the local Hispanic community following President Donald Trump's executive orders on immigration and the national debate over "sanctuary cities."
WATCH: VIDEO OF CHICAGO COP GIVING MAN JACKET TO STAY WARM GOES VIRAL
He said his fellow police officers "don't care" about a person's immigration status and that they have the "same rights as anyone else who lives in Fort Worth."
"We are going to defend you. We are going to protect you," Segura said in Spanish.
SAN DIEGO POLICE HELP COUPLE DELIVER BABY AT POST OFFICE
It was Segura's talk about the enforcement of federal immigration laws that got him in the most trouble.
"In the City of Fort Worth for many, many years, we have not enforced immigration laws. We are not federal officials that can enforce federal immigration laws. I want to make that very, very clear," he said. "We, in Fort Worth, do not execute or enforce laws on immigration so that people that live in Fort Worth do not have the fear that we can possibly deport them. That is not true."
The video has gone viral with more than 1.1 million views.
The department then issued a statement saying it did enforce all laws – local and federal – to protect all citizens, and Fort Worth was not a sanctuary city, Fox 4 reported.
"The video is not intended to represent the views of the City of Fort Worth on immigration or compliance with immigration policies," the statement said.
The department said Segura would not face any disciplinary action because of his video, however.
Segura, who is part of the department's public information team, is a longtime liaison with the Hispanic community in Fort Worth, Fox 4 News reported. It was not clear how long he has been with the department.
"People know him, he's a good man. My goodness, let's get a hundred like him," Texas-based immigration attorney Francisco Hernandez told the channel, adding that Segura's video should be applauded.
In a subsequent comment on the video, Segura later clarified that Fort Worth is not a sanctuary city.