Texas police officer seen pointing gun at group of boys; mom says he choked her son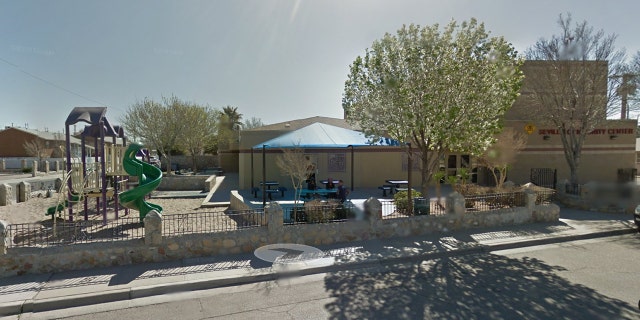 A video taken of a heated situation in El Paso, Texas, on Thursday has gone viral after an officer was seen pointing his gun in the direction of children.
The officer, identified by the El Paso Times as Jose Rios, of the El Paso Police Department, is seen on the video — posted alongside the caption, "Hahahaha f--- the cops" — holding a boy down as a group of children cuss at him. The officer then briefly draws his weapon and aims it toward the kids.
WARNING: VIDEO CONTAINS GRAPHIC LANGUAGE
The officer soon pulls out a baton as he repeatedly shouts at bystanders to "get back," while a second officer holds the previously detained boy down on the ground.
A minor and an adult were reportedly arrested following the incident, which the news outlet reported, citing court documents, was sparked after "10-12 juveniles" allegedly trespassed in a vacant apartment.
VIRAL VIDEO SHOWS PENNSYLVANIA COP USING TASER ON UNARMED MAN SITTING ON SIDEWALK
The children were reportedly stopped by the officers and told to lean against a wall near a recreation center.
Jacob Saucedo, 15, "refused to comply with the order to step back against the wall," allegedly claiming the officers had nothing against him due to "his freedom of speech."
His mother, Elizabeth Flores, told the newspaper that one of the officers choked Jacob and forced him onto the ground before the video started filming.
Rios then told the teen to move toward the wall, which is when the group of children, according to a criminal complaint, became "belligerent with Officer Rios."
Saucedo was reportedly placed into the back of a cop car. The teen's brother, 17-year-old Julian Saucedo, walked toward the roadway as the cops told him to get off the street.
Julian was holding a "device" in his hand, according to the complaint. The device was a phone Julian was using to record the incident, Flores later claimed.
Julian repeatedly didn't listen to officers' commands, the newspaper reported. He was then arrested for "interference with public duties."
Eight officers then responded to the scene, the complaint alleged, as the crowd grew and became "agitated."
WOMAN PUNCHED BY NJ COP IN VIRAL VIDEO SAYS SHE IS 'NOT A CRIMINAL'
"A series of events unfolded while the officers were handling the [trespassing] call and culminated with the situation that was captured on video and posted on social media sites," police said in a news release.
The main officer involved in the incident, a four-year veteran of the force, has been put on desk duty pending an investigation.