Texas mom arrested in death of 6-week-old daughter; infant had 'one of worst' skull fractures doctor had ever seen
A Texas woman was accused of fatally injuring her 6-week-old daughter and then blaming it on her 3-year-old son in a case that a doctor said included "one of the worst" skull fractures he'd ever seen.
The case stems from an incident on Jan. 14 when Halle Marie Murry 25, and her young son took her daughter Acelyn Lailani Rogers to Harris Methodist Southwest Hospital with a head injury.
She told a doctor at the hospital that she was awoken after falling asleep with her daughter on her chest to find the lifeless girl on the floor with her son standing over the baby. Murry then told the hospital chaplain that her son has attention deficit disorder and "dropped her," the Fort Worth Star-Telegram reported.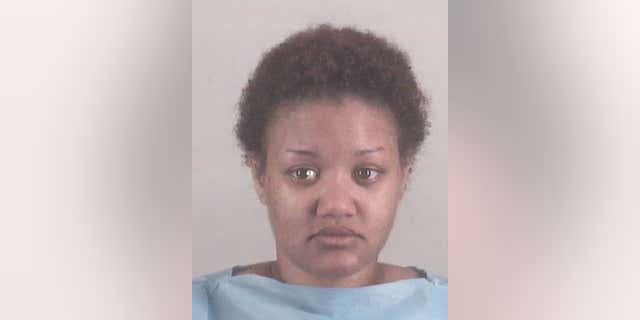 Acelyn was transferred to Cook Children's Medical Center, where a doctor said that the 3-year-old child could not have caused such injuries. The infant was pronounced dead at 5:48 p.m. that same day.
TEXAS GIRL DIES AT HOSPITAL DAYS AFTER BEING BEATEN BY CLASSMATES: REPORT
A doctor told Fort Worth police that Acelyn had "one of the worst" skull fractures he'd ever seen and that he didn't believe a toddler could have caused so much damage.
In an affidavit, crimes against children Detective C. West said Murry changed her account of what happened when she was interviewed by police.
During one account, she told police that she awoke to find Acelyn on the bed in her mother's bedroom with her son standing over the girl holding a metal fidget spinner. She said she noticed the shape of the bruises on her daughter's forehead seemed to match that of a fidget spinner, the Star-Telegram reported.
"She stated how bad her 3-year-old has acted in the past by describing him hitting Acelyn with objects, slapping, biting, kicking and spitting," West wrote.
Murry also told detectives that she and her son had been up for three days and that she had asked for help dealing with the boy, but nobody had helped her, the newspaper reported, citing the affidavit.
5-YEAR-OLD GIRL HOSPITALIZED, UNDERGOES SURGERY AFTER ALABAMA MAN ALLEGEDLY RAPES HER: REPORT
A forensic interview was also conducted with the 3-year-old, and a doctor who observed his interactions with a doll that resembled his sister said he "did not demonstrate the dexterity or force the cause the extensive head injuries" to his sister.
Investigators found that Murry left the hospital and went home back to her apartment shortly after doctors said her son couldn't have caused the injuries.
A drug screening on Murry and her 3-year-old son on Jan. 17 found they both tested positive for cocaine.
An autopsy found that Acelyn had multiple fractures caused by repeated blows to the head. Her death was ruled a homicide caused by traumatic head injuries.
CLICK HERE TO GET THE FOX NEWS APP
Murry was arrested Saturday at her workplace on a capital murder warrant. She was being held in the Tarrant County Jail as of Saturday evening. Bail has not yet been set.