Texas basketball coach rescues Harvey victims by bus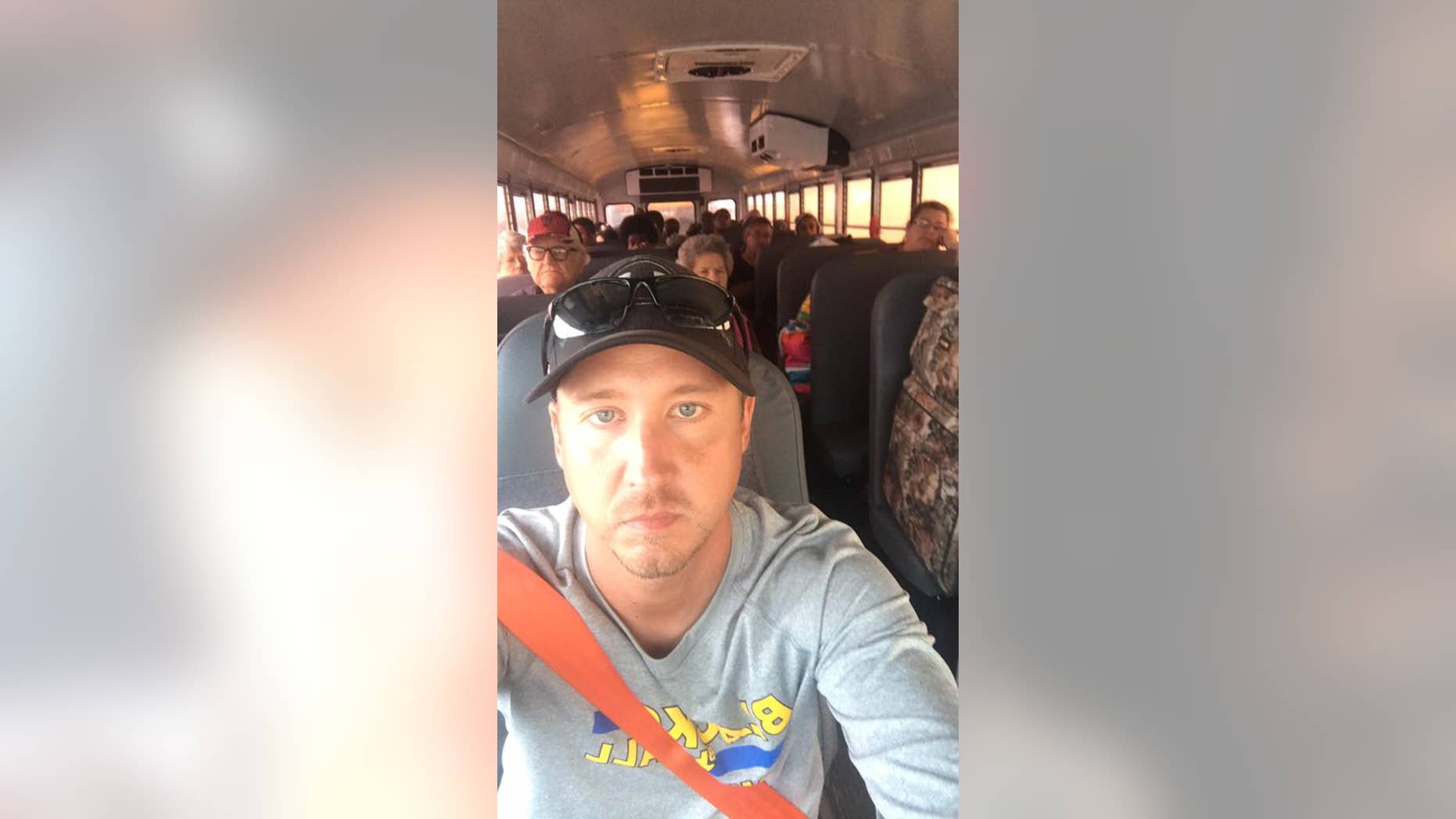 Harvey has created much destruction but also many heroes.
Nathan Janak, the head boys' basketball coach at Bay City High School, posted a photo to Facebook showing him rescuing a huge group of Harvey victims — by bus.
"I took the picture on the bus when we were waiting to get off the bus at the shelter. It was a very busy shelter so we had a moment when we were waiting and I reflected on how moving the experience was," he told Fox News.
"I was thinking to myself that this experience had the potential to be chaotic but it wasn't. Everyone including myself were facing the unknown. No one knew what would happen to our homes. No one knew how long they would be at the shelter. The drive to the shelter was very slow as it was raining very hard and there was a lot of wind. You could feel the fear amongst the people but no one let that fear get the best of them. It was just a moment. I wanted to share the moment with my friends. I was proud of the school and community I work in."
He said Bay City — a city in Matagorda County in southeastern Texas with a population just over 17,500 — was not hit directly by Harvey, but the county faced a mandatory evacuation order.
He left Friday morning to stay with his sister in San Antonio but late Sunday night got a call asking if he would be willing to drive a bus to evacuate people from Bay City.
"At 10:30 Sunday night Bay City was issued another mandatory evacuation order due to the potential life-threatening flooding from the Colorado River which runs alongside Bay City," he said. "I drove from San Antonio Sunday night through some tough weather and a lot of road closures and made it back to Bay City around 3 a.m. Monday morning."
That morning he and five other coaches from his school "went to the Bay City Civic Center to load up citizens that needed to be taken to a shelter at Rosenberg Terry High School."
After picking up and dropping off the evacuees, he and the other coaches got themselves to safety.
In the caption of the photo taken Monday morning — and since shared more than 2,500 times on Facebook — Janak remarked how the hurricane brought everyone together. "It was just people helping people. It was one of the greatest displays of human kindness I have ever seen," he wrote.