Officials shut down access to California's Walker Canyon amid 'poppy apocalypse'
Crowds rushing to the Southern California city of Lake Elsinore to see the poppy fields may have been disappointed this weekend after officials were forced to close access to the poppy–blanketed Walker Canyon after the crowd of people became too overwhelming.
About 150,000 people over the weekend flocked to see a super bloom that occurs about once a decade. However, the rush of people was too much for the city of about 60,000 residents to handle. Interstate 15 turned into a parking lot and some people fainted from the heat, The Associated Press reported.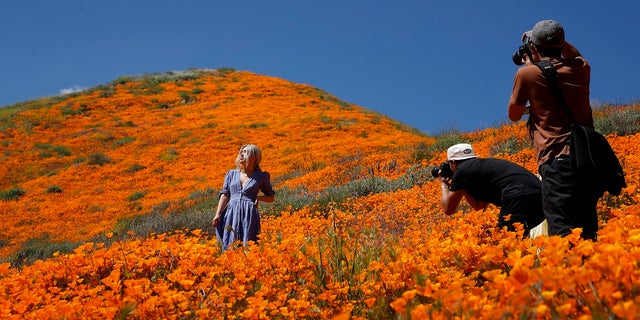 The city tried to prepare for the super bloom crowd and offer a free shuttle service to the top viewing spots, but their efforts were not enough.
DESPERATE DAD JUMPED INTO ROLLING RIVER IN ATTEMPT TO SAVE DAUGHTER: REPORT
Sunday traffic got so bad that Lake Elsinore officials requested law enforcement assistance from neighboring jurisdictions. At one point, the city closed access to poppy-blanketed Walker Canyon.
The scene was described as "insane."
"It was insane, absolutely insane," said Mayor Steve Manos, who described it as a "poppy apocalypse."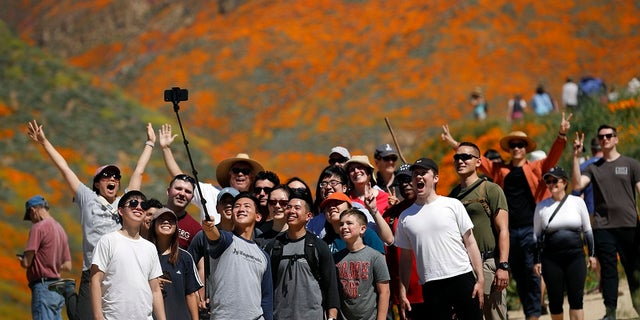 According to the Palm Springs Desert Sun, many visitors tried to grab the best snap of the fields of poppies.
SAN FRANCISCO HOMEOWNER TAKING FLAK FOR DINOSAURS IN FRONT OF 'FLINSTONE HOUSE'
"Families and Instagram-influencer wannabes alike attempted feats of free-climbing and scrambling as large boulders toppled down behind them as every step kicked more rocks loose, threatening to squish children or seniors who couldn't lunge out of the way fast enough," the paper wrote.
However, those social media posters can rejoice because the city announced Monday that Walker Canyon has reopened -- but with limited parking. And with the #poppshutdown declared over, the upcoming weather forecast was looking rainy, which means the poppies will bloom and most likely the visitors will continue to come.
The Associated Press contributed to this report.