Tennessee family receives Christmas surprise after cop pulls them over for speeding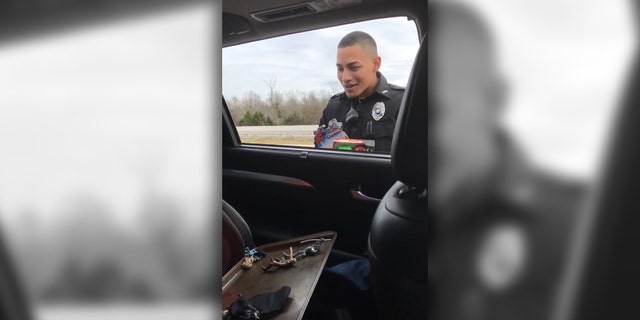 NEWYou can now listen to Fox News articles!
A family in Tennessee getting pulled over by a police officer was able to get into the Christmas spirit when their traffic stop didn't turn out as expected.
The Caperton family, traveling to see their relatives in Huntsville on Christmas day, was pulled over by Decherd Police Officer Tristian Delacruz. The stop, Sarah Caperton later admitted on Facebook, was because they were "driving a little over the speed limit."
However, Caperton told WAFF, "The conversation started with a Merry Christmas from both parties and we knew it was only going to get better from there."
Delacruz let the family off with a warning. But, as a heartwarming video posted online shows, the officer's job wasn't done just yet.
TEXAS POLICE SAVE CHRISTMAS FOR FAMILY AFTER GIFTS STOLEN FROM TRUCK
Delacruz explained to the Caperton's two young boys that he also had to pull over Santa the night before for the same offense.
"I told [Santa] that he had to slow it down just a tad bit," said Delacruz. "He said, 'You know what? You're going to pull over a black Toyota today for their speed and their [sic] going to have two younger boys in their car, and I want you to give them this.'"
Delacruz is then seen giving the children toy cars and an action figure.
"Officer Delacruz was extremely kind and helped bring a little more Christmas cheer to our day," Caperton told the news station. "[The video] was a good opportunity to remind people of the sacrifice some people have to make on holiday when they can not [sic] be with their families as they are helping protect ours."