Teen miraculously survives 12 hours in Los Angeles sewage by finding air pocket to stay alive
A 13-year-old boy who was rescued after spending more than 12 hours in a California drainage ditch said Tuesday he found a pocket of breathable air to keep himself alive while authorities located his handprints on a pipe that led them to his location.
Jesse Hernandez was found early Monday after he plunged 25 feet into a 4-foot-wide pipe at Los Angeles' Griffith Park that led to a mazelike underground sewage system. Jesse had been playing with other children on wooden planks during an Easter Sunday outing when the ground beneath the 13-year-old gave way, authorities said.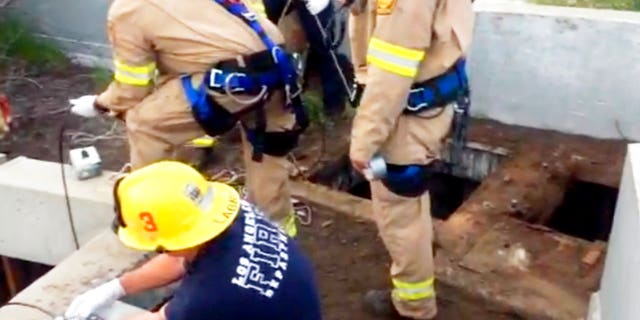 "I fell in and the water kept on pushing me. Then I stood up. I just stayed in this hole for the rest of the 13 hours," Jesse told FOX11 LA. "It was dark. I couldn't see anything."
BOY, 13, FOUND ALIVE AFTER FALLING INTO LOS ANGELES DRAINAGE DITCH 'MAZE'
The children ran to the adults, who called 911 as Jesse was fighting to stay alive in the fast-moving sewage. Rescuers used cameras propped on flotation devices to locate the boy. They finally spotted handprints on a sewage pipe that eventually led them to Jesse's location.
"The first thing they heard was 'Help!'" said Adel Hagekhalil, assistant general manager of the sanitation department. "He caught onto the hose and was reeled back up."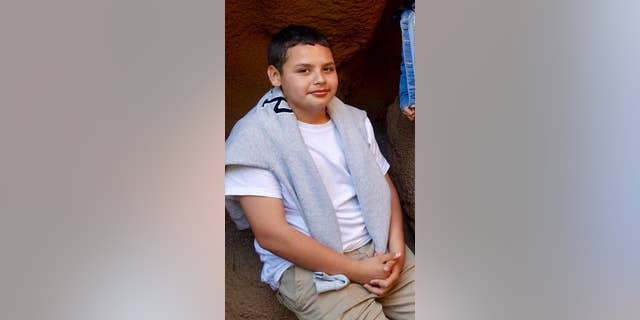 Jesse was about 11-feet deep in the pipe. He was found less than a mile from where he fell. By then, authorities had inspected about 2,400 feet of pipe.
"I thought I was going to die," the boy told FOX11. "But I didn't."
Rescuers gave him immediate medical attention, including hosing him down to get rid of the sewage and cleaning out his eyes and nose with sterile saline. Jesse immediately asked for a cellphone to call his family. A worker handed him a phone, and he called his mom.
"They never gave up hope," Hagekhalil said. "They wanted to bring Jesse back to his family."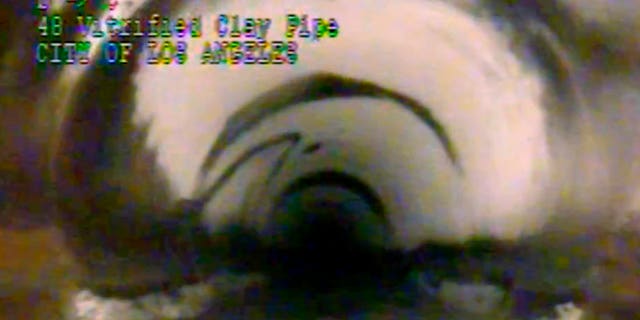 Brian Humphrey, a spokesman for the Los Angeles Fire Department, said the odds of finding a person alive in the same scenario are usually "slim."
"The odds were not in his favor, and many would call it miraculous," Humphrey said. "He has tremendous inner strength…It's obvious he's not a quitter."
The Associated Press contributed to this report.