Teams comb Ariz. desert for suspect in agent death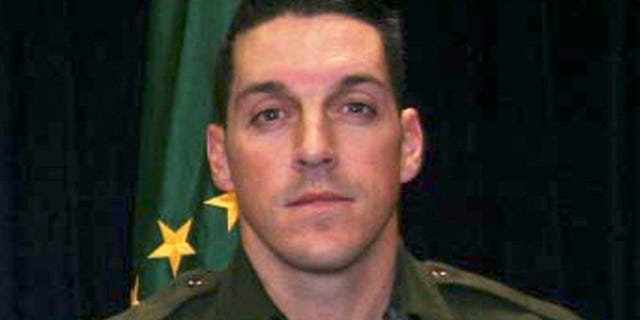 NOGALES, Ariz. – Teams of border officers combed through the Arizona desert about 10 miles north of Mexico on Thursday in search of the lone outstanding suspect in the fatal shooting of a Border Patrol agent.
They were on horseback and all-terrain vehicles searching rugged, hard-to-reach spots in a mountainous area just north of Nogales in southeastern Arizona. Officers in patrol cars were searching the perimeter.
The suspect could be in Mexico, or could have tried his luck in Nogales or a nearby town, but he also could be hiding behind the next bush.
"Someone can hide out there very easily. There's vegetation and they can blend in with the terrain," Santa Cruz County Sheriff Tony Estrada told The Associated Press on Thursday. "They have to continue trying and not give up until they feel there's absolutely no chance they'll catch him."
The shooting Tuesday night came after agents spotted suspected bandits known for targeting illegal immigrants along a violent smuggling corridor, National Border Patrol Council President T.J. Bonner said.
Brian A. Terry, 40, was waiting with three other agents when the gun battle erupted. Terry died in the shooting. None of the other agents was injured.
Border Patrol spokesman Eric Cantu and FBI spokeswoman Brenda Lee Nath declined to confirm Bonner's account but said that authorities have four suspects in custody and were searching for a fifth. The Border Patrol declined to reveal the country of origin of the suspects.
Cantu said Thursday he was unsure how long the search would go on if the suspect is not found.
"We're going to extend every asset we have at our disposal," he said. "There are many places a person can hide, especially if they have experience eluding law enforcement."
The bandits target illegal immigrants in remote areas of the desert to rob, rape or otherwise take advantage of them. They often get away with it because their victims usually still want to try to make it to their destination.
"There's a lot of things that happen in those valleys and canyons that don't get reported for a lot of reasons: fear for one," Estrada said. "They've come a long way, paid a big price and they're not about to give that up."
When reports of bandits do come it, it's usually too late to find them, Estrada said.
The killing comes as federal and local officials say the border is safer than ever.
"It's been safer, it's more secure, but it's not sealed," Estrada said. "And it will never be sealed as long as you have the demand for drugs and people. We'll continue to be busy for a very long time."
As for whether there will be more killings, Estrada said "the threat is definitely there."
"And I think everybody is mindful of that and aware of that," he said. "It is a porous border because if you want to find a way to make it across, you can."
Homeland Security Secretary Janet Napolitano was expected to be in Arizona on Thursday and Friday to meet with Border Patrol agents in Nogales and Tucson, but had no scheduled events involving the public or members of the media.
The shooting occurred in the Border Patrol's Tucson sector, the busiest gateway for illegal immigrants into the United States. Half of the marijuana seizures along the 1,969-mile southern border are made in the sector, which covers 262 miles of the boundary.
Terry, who is from the Detroit area, was unmarried and didn't have children; he's survived by his parents, a brother and two sisters.