Suspect in 'white powder' letter to Trump Jr. donated to Dems, posted anti-Trump rants on Facebook
The Massachusetts man who allegedly mailed a white powder to Donald Trump Jr. has previously donated to a Democratic political action committee and shared anti-Trump posts on social media, including comparing President Donald Trump to Adolf Hitler.
Daniel Frisiello, 24, was arrested Thursday after authorities tracked him down following the examination of a "glitter bomb" letter sent to Stanford University law professor Michele Dauber. Investigators matched the text font from the letter to other threats sent to those seen on the letters of the white-powder envelopes.
Authorities said the letter included a threatening note that read: "You are an awful, awful person. I am surprised that your father lets you speak on TV. You the family idiot. Eric looks smart."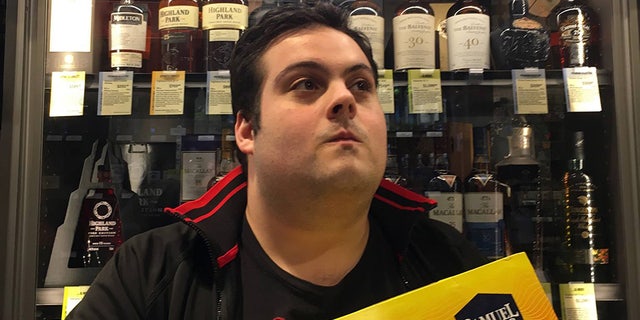 Trump Jr.'s wife, Vanessa Trump, opened the letter in the couple's New York City apartment Feb. 12 and reported feeling nauseous and coughing. President Trump's daughter-in-law and two other people were taken to a hospital in the incident.
The letter was postmarked in Boston on Feb. 7, had an American flag stamp and no return address. The powder was ultimately determined to be corn starch, the Associated Press reported.
Frisiello is accused of sending a total of five letters filled with white powder and faces charges of mailing a threat to injure the person of another and false information and hoaxes.
MAN ARRESTED FOR SENDING WHITE POWDER TO DONALD TRUMP JR.'S NYC APARTMENT
Frisiello's Facebook account and other public information suggest strong hostility toward the Trump family and Republicans and sympathy toward Democratic causes, prompting him to even donate despite being reportedly unemployed.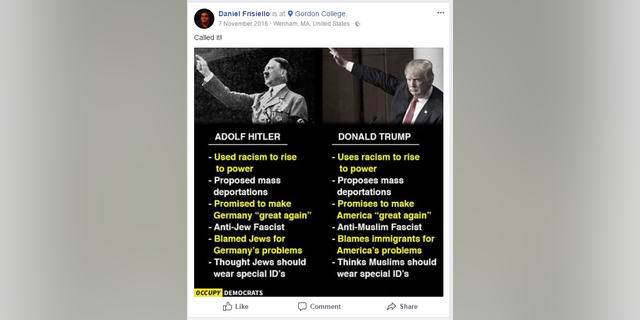 In April 2016, he contributed $75 to ActBlue, a political action committee that works to raise money online for Democratic candidates and committees, according to the Federal Election Commission (FEC). The address on the contribution matches Frisiello's home address. The donation lists him as "not employed."
On social media, the man – registered as a Democrat – compared President Trump, whom he also branded as the "Dark Lord, at least twice to Adolf Hitler, sharing photos from hyper-partisan left-wing Facebook pages. In another instance, he called Trump an "Adolf Hitler wannabe."
Another shared photo shows a Ku Klux Klan rally in Washington, D.C., in the 1920s, but is captioned "a sneak peek of Trump's inauguration."
Frisiello also takes an indirect shot at first lady Melania Trump, sharing a British newspaper article claiming Trump is a "mentally ill narcissist" and noting that this "Explains his kids and the women he chooses."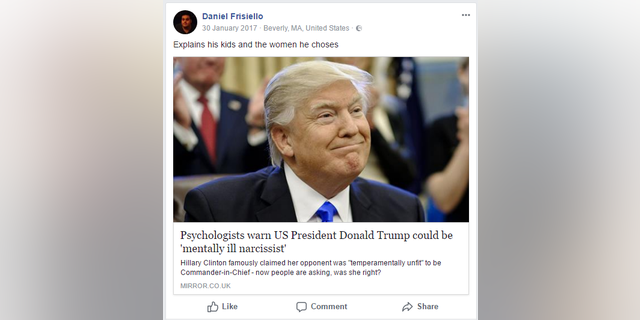 On Dec. 16, 2016, the accused man also speculated that the unsealing of the Clinton email probe search warrant would show that "Russia, [then-FBI Director] Comey and Trump were in on this horrific act."
But Frisiello also has posted bizarre rants against his own party. He criticized Sen. Debbie Stabenow, D-Mich., after she said was disappointed that a father was prevented from punching Larry Nassar, the disgraced sports doctor accused of molesting more than 260 women and girls.
Stabenow was reportedly an addressee of one of the white powder letters.
"Good god now the democrats are going off the rails," Frisiello wrote Feb. 8. "This is not the democratic means and I am embarrassed to be in part of the same party as her, because I am not her. I would be offended if anyone I know in the democratic party has the dame[sic] feelings and thoughts of this imbecile of a senator!"
Many social media users mocked Frisiello after it appeared that he shared a news story Feb. 12 about a his alleged crime of sending a threatening letter to Trump Jr. filled with white powder.
"Dude you actually posted about your own crime? Get help you," one person commented yesterday below Frisiello post.
"Darwin Award," wrote another person, referring to a tongue-in-cheek award recognizing people who have contributed to human evolution by selecting themselves out of the gene pool by their own actions.
Fox News' Katherine Lam contributed to this report.