Suspect identified in murder of George H.W. Bush's former doctor
Houston Police announced Wednesday they had identified a suspect in the murder of a prominent cardiologist who once treated former President George H.W. Bush.
Police Chief Art Acevedo told reporters that an arrest warrant had been issued for 65-year-old Joseph James Pappas, who investigators believe shot and killed Dr. Mark Hausknecht as he rode his bicycle to work on the morning of July 20.
"We need to find this guy," Acevedo said of Pappas, who he described as armed, dangerous and possibly suicidal. "If he's committed suicide, we need the body. If he's alive, we need to find him."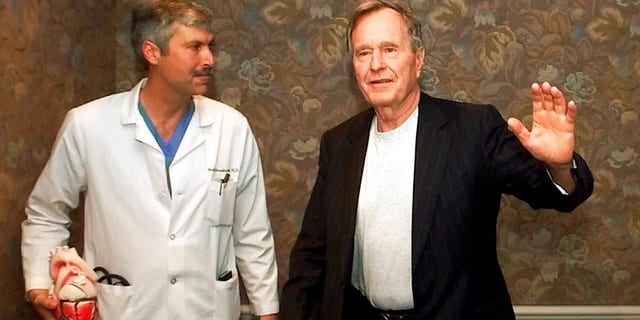 Investigators believe that Pappas held a grudge against Hausknecht after his mother died while the doctor was operating on her more than two decades earlier. Acevedo said that officers had searched Pappas' home early Wednesday and obtained additional evidence tying him to the murder.
"We believe that this absolutely is the killer," Acevedo said.
Acevedo said Pappas hadn't been seen in 36 to 48 hours. He said the last anyone had heard from Pappas was in a Tuesday morning text message in which Pappas wrote that he was going to kill himself.
Acevedo said the department received tips identifying Pappas as the gunman after authorities released new surveillance video Monday of the suspect riding his own bicycle through a neighborhood moments after the shooting. The footage showed a man wearing a ball cap, a short-sleeved polo shirt and khaki shorts.
Investigators said the shooter passed Hausknecht from behind and rode at least a block ahead before turning around and firing three shots at his victim.
"There was a lot of planning that went into this," Acevedo said of the murder. "There was a lot of planning and, sadly, some skill ... The shots that he took, took some skill."
The chief told people living in the area to be on the lookout for a Schwinn ten-speed bicycle that he said Pappas rode "extensively and almost exclusively."
In 2000, Hausknecht treated Bush for an irregular heartbeat after the 41st president complained about lightheadedness. After Hausknecht's death, Bush called him "a fantastic cardiologist and a good man."
Click for more from Fox26Houston.com.
The Associated Press contributed to this report.