Survivors of Oregon bus crash prepare to go home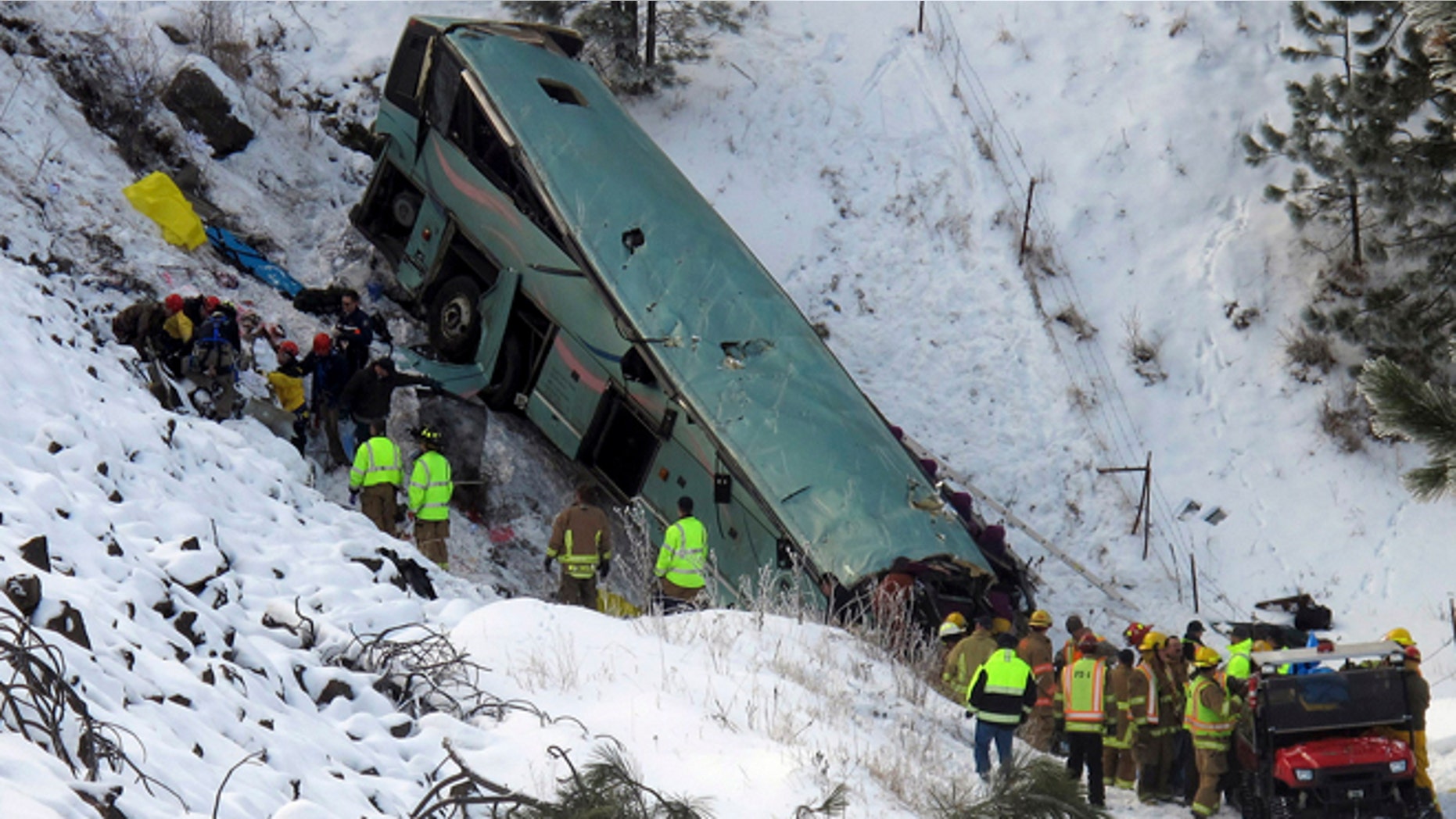 PENDLETON, Ore. – Some of the survivors of a fatal bus crash on a rural Oregon highway retrieved their passports and other belongings Tuesday so they can finish their journey to Canada.
At least 14 survivors remained hospitalized in three states after the weekend crash that killed nine and injured 38 others. State police escorted others one by one to collect their property, which was strewn across a hillside as the tour bus careened 200 feet from a partly icy roadway Sunday.
The bus was returning to Vancouver, British Columbia, on the final leg of a nine-day tour of the western United States. The trip was organized by a British Columbia travel agency to carry tourists traveling in small groups. Most of the passengers were Korean.
The Red Cross said some of the survivors were too terrified to get on another bus, so a nearby Ford dealer offered to drive them in smaller passenger vehicles. Some were expected to begin the trip on Wednesday.
"The pieces are kind of getting into place about getting back to normal, and they want to go home," said Mary Naman, a registered nurse from Portland working with the American Red Cross to help survivors.
Red Cross workers are helping about 15 survivors who remain in Pendleton, trying to make them as comfortable as possible while they wait for police to release their belongings and for the logistics of their return trip to be worked out. One local volunteer, who is Korean, planned to make traditional Korean food for them, Naman said.
Many of the survivors did not know each other before the trip but have supported each other and formed a close bond through shared experience, said Sandy Ramirez, a Red Cross psychologist. While they're eager to get home, it will also be tough to separate from the other survivors who understand what they're going through, she said.
State police and National Transportation Safety Board investigators were expected to finish an inspection of the bus Tuesday.
Oregon State Police identified one of the nine victims as a 57-year-old Washington man. Authorities said Dale William Osborn of Spanaway was killed in the Sunday crash and his wife, Sue Osborn, remained hospitalized in Pendleton, about 200 miles east of Portland.
His daughter, Jennifer Sherman of Colorado Springs, said she was told her father was hit in the head by a rock while her mother was thrown into a river bed. She last spoke to her father two weeks ago.
"He was very happy," Sherman said. "He's a very good man."
Authorities have not yet released the names of the other eight people who died, but police said the four men and four women were of Asian descent and one female victim may be a juvenile.
Two families are expected to arrive from South Korea later this week, said Vice Consul Chul Ho Choi, who came to Pendleton from Seattle to help authorities translate, identify victims and notify relatives. Relatives of all victims have now been notified, he said.
Chris Huxoll, sales manager at Legacy Ford in La Grande, Ore., said the dealership will probably use new sport-utility vehicles with four-wheel drive to be sure survivors can safely make the 420-mile trip to Vancouver.
"We are extremely sensitive to the fact that these kids and adults don't want to get on a bus," said Casey White-Zollman, a volunteer spokeswoman for the Red Cross.
Police said Monday they still weren't sure how fast the bus was travelling before the crash.
It could take a month or more to determine whether the driver, a 54-year-old man from Vancouver was at fault and whether he'll face charges, Oregon State Police Lt. Gregg Hastings said.
The bus was traveling westbound in the left lane of Interstate 84 when it hit a concrete barrier, veered across both westbound lanes and plunged through the guardrail and 200 feet down the embankment, Hastings said. The NTSB said the bus rolled at least once.
The interstate links Boise, Idaho, and Portland, Ore., through the Blue Mountains and the Columbia River Gorge.