Struggling Family Receives Christmas Gift of New Home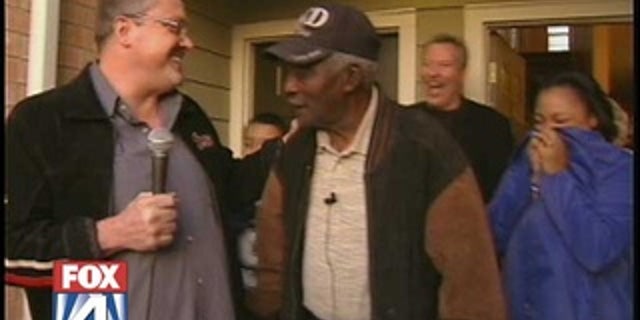 DALLAS, TX – A Texas man got a Christmas wish beyond his wildest dreams, thanks to his niece and a local radio station.
Edgar Lewis, 78, of Fort Worth and his wife were living in a small one-bedroom apartment after they lost their home in a fire in January. And not long after, family circumstances prompted them to take in three of Lewis' grandchildren, who had to sleep on an air mattress.
With the larger household, occupancy laws mandated that they move into a larger, and more expensive, apartment. Yet the elderly couple soon discovered that the Social Security checks they were receiving were not enough to make the rent and expenses of their new home and extended family.
Faced with the possibility of eviction and even homelessness, the Lewis family's life was completely changed Thursday, when a lot of generous people helped the family make a fresh start.
Local radio station 94.9 KLTY, after being contacted by Lewis' niece, organized a group of local business that pitched in and moved the struggling family to a brand new home fully equipped with furniture and appliances.
But the assistance didn't stop there. Lewis was taken outside and shown his new donated car, which will allow both him and his 17-year-old granddaughter to work to support the family.
"Thank you. God bless you," he told MyFoxDFW,com. "I want to say I thank you for making this a wonderful Christmas and ya'll know that ya'll have done a really good deed for me and my family."
Lewis added, "I'll remember this as long as God lets me live. Thank you very much."
Click here for more on this story from MyFoxDFW.com.