Southwest flight's deadly engine failure similar to 2016 incident
A fan blade snapped on a Southwest Airlines plane, forcing an emergency landing -- in 2016.
The two-year-old incident was revealed following Tuesday's deadly incident that killed a mother of two aboard a Southwest flight.
In both incidents, there were signs of metal fatigue at the location where the 24 titanium alloy fan blade detached. On Tuesday, the Dallas-bound Southwest flight 1380 was 32,500 feet over Pennsylvania when the plane's engine fan blade broke off, causing debris to fly off.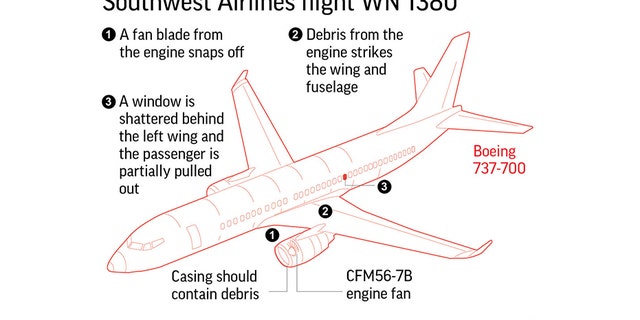 Shrapnel shattered a window, causing passenger Jennifer Riordan to be partially sucked out of the aircraft, ultimately killing her. The plane made an emergency landing at Philadelphia International Airport.
Investigators found the blade that detached showed signs of "metal fatigue" — microscopic cracks that can splinter open under the kind of stress placed on jetliners and their engines.
SOUTHWEST AIRLINES FLIGHT HEROES DESPERATELY TRIED TO SAVE MOM
The description of Tuesday's tragedy eerily mirrored a similar incident that occurred on Southwest Airlines flight 3472 on Aug. 27, 2016. In that incident, the Boeing 737-700 from New Orleans was heading to Orlando, Fla. when the fan blade separated from the fan disk, according to a 2016 National Transportation Safety Board news release.
The plane made an emergency landing in Pensacola, Fla. and no passengers were injured.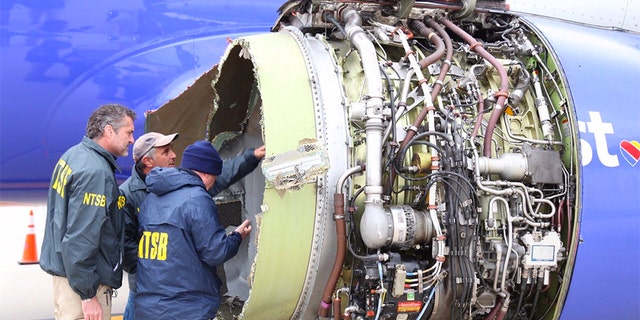 "The fracture surface of the missing blade showed curving crack arrest lines consistent with fatigue crack growth. The fatigue crack region was 1.14-inches long and 0.217-inch deep," initial findings revealed in 2016. "The center of the fatigue origin area was about 2.1 inches aft of the forward face of the blade root."
The left engine inlet separated from the engine during the flight. A hole was found in the left fuselage just above the left wing, the news release said.
"Engine failures like this should not occur," NTSB Chairman Robert Sumwalt said about Tuesday's incident.
That led manufacturer CFM International, a joint venture of General Electric Co. and France's Safran SA, to recommend last June that airlines conduct the inspections of fan blades on many Boeing 737s.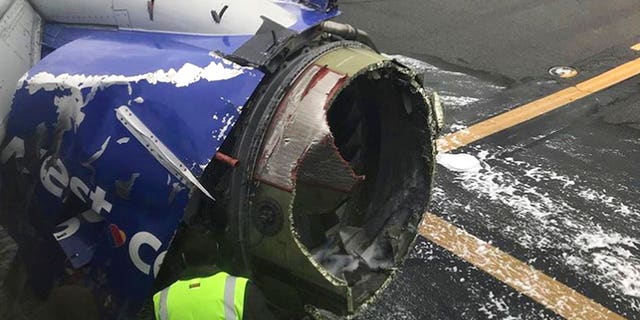 HERO SOUTHWEST PILOT SPEAKS OUT: 'WE WERE SIMPLY DOING OUR JOBS'
The FAA proposed making the recommendation mandatory in August but never issued a final decision.
The Federal Aviation Administration announced inspections have been ordered on engine fan blades after Tuesday's deadly accident. It added that ultrasonic inspections would be conducted on fan blades on some CFM56-7B engines after they reach a certain number of takeoffs and landings.
Blades that fail inspection would need to be replaced.
It was not immediately clear how many planes would be affected. Last year, the FAA estimated that an order would cover 220 engines on U.S. airlines. That number could be higher now because more engines have hit the number of flights triggering an inspection.
The Associated Press contributed to this report.