Smoke from massive warehouse fire detected by weather radar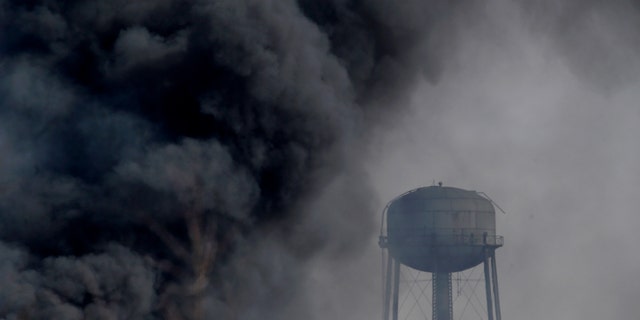 NEWYou can now listen to Fox News articles!
Firefighters on Friday contained a massive warehouse fire that burned out of control for nearly 20 hours and generated so much smoke that it was detected by weather radar and forced some school closures.
The blaze did not pose an imminent public health threat, officials said. But schools were closed Friday in Hillsborough because of smoke from the blaze.
The fire started around 3:30 p.m. Thursday at Veterans Industrial Park. Plastic pellets were being stored in most of the complex. Those pellets continued to burn even after officials contained the fire from spreading at about 11 a.m.
The complex once housed old military munitions and is near historic Duke Farms, the estate that belonged to the late tobacco heiress Doris Duke.
The weather posed challenges to firefighters almost immediately, said Hillsborough Fire Marshal Chris Weniger. Strong winds fueled the blaze Thursday afternoon, and cold temperatures lead to problems with freezing water.
Firefighters also had to be rotated in and out of service. One suffered a minor leg injury.
"We're getting a tremendous amount of support from our neighboring communities," Weniger said.
Hillsborough Mayor Frank DelCore said there were some initial environmental concerns because a property adjacent to the fire was once a federal stockade for mercury, a highly toxic element.
However, DelCore said the federal government had moved the mercury off the site several years ago. Nonetheless, state and federal environmental officials were on the scene to test air quality.