Six Flags Batman roller coaster glitch leaves riders dangling 'virtually upside down' atop 12-story drop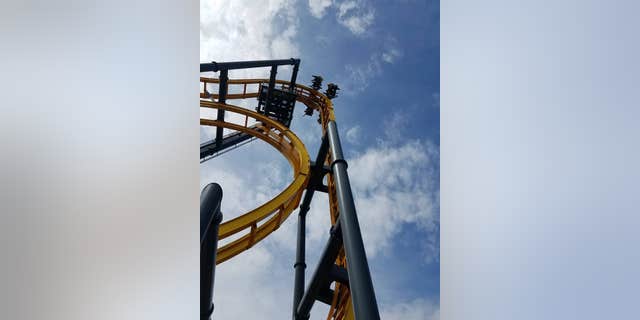 Crowds of people paused in their tracks as the feet of roller coaster riders swayed helplessly above after the Batman roller coaster at Six Flags Fiesta Texas in San Antonio came to a sudden -- unexpected -- stop at the top of its first drop on Tuesday.
Terri Scott Crysel, a self-described "roller coaster enthusiast" in Texas, was in line for the ride with her daughter when she heard the machine screech to a halt.
"We had been in line for over an hour and were pretty close to getting on the ride when it just stopped up high with people in it," Crysel told Fox News. "People around me in line were just looking, taking pics and videos, and wondering what was going on."
Cameron McEntire of Saginaw, Texas, said he "heard people panicking" and immediately stopped to look up, pulling out his phone to capture the terrifying scene. He posted a 15-second clip on Twitter, garnering more than 3,700 views online as of Thursday evening.
"I've never seen this happen before firsthand," McEntire told Fox News. "I would've thought they would take inspections more seriously, but I was wrong."
Sydne Purvis, communications director for Six Flags Fiesta Texas, confirmed to Fox News that a glitch with a safety sensor -- an electronic device that pauses the roller coaster on its track when it detects weather-related threats such as strong winds -- caused the coaster to stop atop one of its 12-story lifts.
"One of the many sensors on the ride sent an alert," Purvis said in a statement, though she didn't elaborate on what caused the technical problem.
It took about 45 minutes for the ride to resume and return the shaken passengers safely to the ground. There were no injuries reported.
"About 40 minutes later I looked back up again to see that cart had rotated and I believe two of the passengers were virtually upside down," McEntire said.
Purvis said incidents like the one that occurred on Tuesday do not happen frequently. Park officials performed several safety tests before reopening the ride.
But the safety checks may not have been enough to ease every rider's mind -- at least, not McEntire's.
"As soon as the incident happened people were leaving the ride afraid of it happening to them," he added. "This definitely has made me timid about future rides."
Crysel, on the other hand, said she's already ready to ride again.
"It doesn't scare me. I am a roller coaster enthusiast," she said.