Severe weather across US to threaten travel, bring more tornado threats
Areas from Texas to the Midwest will see thunderstorms
A major storm system is bringing multiple weather hazards across the central U.S. on Friday.
The low-pressure system is forecast to shift northeastward from the central Plains to the Great Lakes region.
Thunderstorms are expected from eastern Texas to the Midwest, with unsettled weather swinging eastward through the Ohio and Tennessee valleys overnight.
Wind gusts, hail and some strong tornadoes are expected to threaten communities between the Midwest and lower Mississippi Valley.
PRESIDENT BIDEN TO VISIT MISSISSIPPI AFTER TORNADOES RAVAGE STATE, LEAVING 25 DEAD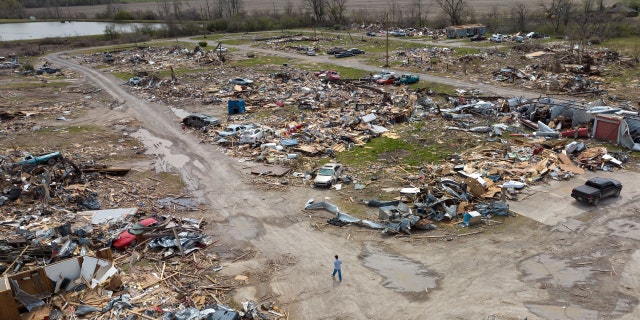 At the greatest risk are areas in Iowa, Illinois, Missouri, Arkansas, Missouri, Kentucky and Tennessee.
These risks follow severe thunderstorms and a deadly tornado in Rolling Fork, Mississippi, that tore through the community and killed 26 people. President Biden is visiting the devastated area on Friday.
The National Weather Service's Storm Prediction Center issued a moderate risk of severe thunderstorms across southeast Iowa, northwest Illinois, northeast Missouri and for an area from northeast Arkansas to far western Kentucky. The agency also warned storms may contain intense rainfall that could produce isolated-to-scattered areas of flash flooding.
The greatest risk for flooding lies across the Ohio, Tennessee and lower Mississippi Valleys through Friday night.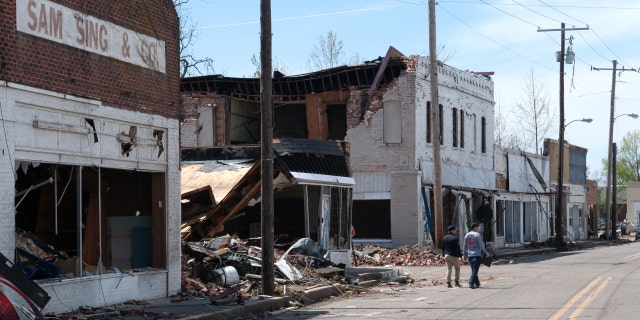 WILDFIRE RISKS DELAYED IN HIGHER ELEVATIONS OF SOUTHWESTERN US, EXPERTS SAY
High winds are also expected to impact a widespread area of the country from the central to eastern U.S.
Damaging winds are possible across the Great Plains, Middle-Lower Mississippi Valley and the Tennessee and Ohio valleys.
The National Weather Service said the combination of those strong winds with low relative humidity would create extreme fire conditions for the southern and central Plains, with wind gusts up to 60 mph leading to tree damage and power outages.
Dust storm warnings were in effect for portions of the Southern Plains.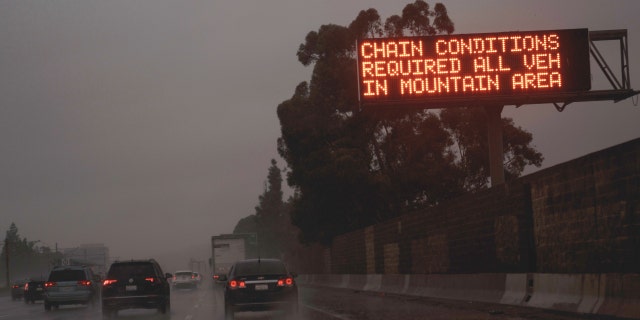 Wind gusts up to 45 mph are expected farther east into the Mississippi and Tennessee valleys.
This all comes as heavy snow, blizzard conditions and significant ice accumulations are likely for parts of the northern Plains and the upper Great Lakes.
Hazardous to even impossible travel conditions are expected, with the agency warning of zero visibility and whiteout conditions and snow-covered roads.
In the West, after a constant barrage of atmospheric river events, the next storm to impact the coast will spread heavy mountain snow and lower-elevation rain in the Pacific Northwest.
Reuters contributed to this report.