SantaCon revelers face alcohol ban on New York commuter trains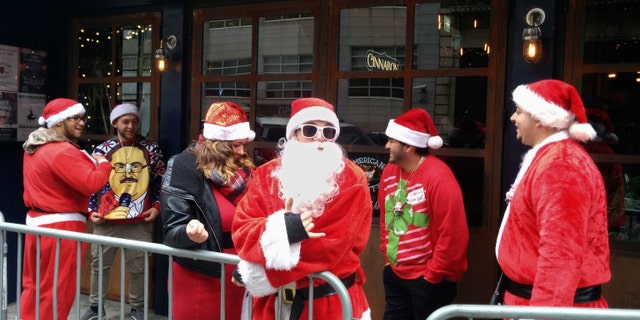 Thousands of people dressed in Santa Claus outfits invaded taverns around the U.S. on Saturday for the annual bar crawl known as "SantaCon."
In the New York City area, the revelers faced a bigger crackdown than in past years, as rail-system operators banned alcohol from their trains into Manhattan.
Authorities aimed to curb any rowdy behavior during the event by enlisting extra police officers, and imposing a 24-hour alcohol ban on Long Island Rail Road and New Jersey Transit trains.
But that didn't prevent the Santas from crowding New York's Penn Station and city streets Saturday on their way to watering holes.
Police extended the band to Metro-North trains from noon Saturday through noon Sunday, and Metropolitican Transportation Authority police enforced the restriction at Penn Station, Grand Central Terminal and smaller transit stations in the area.
Police arrested one man near a bar on West 36th Street on Saturday after he allegedly got into a fight with a bouncer. The suspect allegedly resisted arrest and injured an officers' wrist before being taken into custody.
The suspect was charged with assault, resisting arrest, and governmental administration, police said.
This weekend New York is experiencing he first snowfall of the season. It was expected to wind down early Sunday, leaving about 3 inches of snow on the ground, according to the National Weather Service.
Conditions were much sunnier and warmer in San Francisco, where an estimated 2,500 Santas participated Saturday, KQED reported.
All told, some 150 cities worldwide planned to hold SantaCon events on various dates in December, the organziers' website says.
The Associated Press contributed to this story.